The Jimmy Neutron characters franchise was originally created by director/writer/animator/composer/voice actor John A Davis but did not become popular until Nickelodeon created the film Jimmy Neutron: Boy Genius (2001). The Nickelodeon entertainment channel has been one of the most loveable cartoon networks in the world since it was first launched on April 1, 1979. The media franchise produces many entertainment cartoon series that both children and adults love to watch.
The 2001 movie spawned a TV series that lasted over a decade until 2013, various video games, and even a theme park in Florida; Jimmy Neutron's Nicktoon Blast (2003 – 2011).
Below we will review the charming cast of characters that started it all.
| Film | Jimmy Neutron: Boy Genius (2001) |
| --- | --- |
| TV Series | The Adventures of Jimmy Neutron, Boy Genius, Planet Sheen |
| TV Specials | The Jimmy Timmy Power Hour (2004–2006) |
| Video Games | Jimmy Neutron: Boy Genius, Vs. Jimmy Negatron, Jet Fusion, Attack of the Twonkies |
| Best Known For | Nicktoon Blast |
List of Jimmy Neutron Characters (December 2023)
1- Jimmy Neutron
James Isaac Neutron is a 10-year-old boy genius who is famous in his town for his extremely high IQ level of 210. Well, sometimes he faces bullies because of his short height and big head. But apart from his short height and big head, he has fair skin, blue eyes, and an amazing sense of humor. Jimmy is only committed to science, technology, and his crush Cindy Vortex. His catchphrase "Brain blast!" is used whenever he finds a solution to a problem (usually caused by himself).
2- Sheen Estevez
Ramón Juarrea "Sheen" Estevez is the second most popular character and best friend of Jimmy. He is known for his hyperactive short attention span and obsession with the fictional superhero "Ultralord." Later, he becomes the boyfriend of Libby Folfax.
3- Carl Wheezer
Carlton Ulysses Wheezer is another of Jimmy's close friends. He is allergic to everything (even things that are incapable of triggering allergic reactions). He is passionate about llamas and Jimmy's Mom, Judy.
4- Cindy Vortex
Cindy Vortex is the blond-haired, green-eyed, tai-chi-practicing cutie who is Jimmy's female replica. If anyone can play both the arch-rival AND love interest of Jimmy Neutron, she can. She is also best friends with Libby Folfax.
5- Libby Folfax
Libby Folfax was probably the sassiest among the Jimmy Neutron characters. Initially, she despised Jimmy's gang but slowly grew to love them and even became the romantic interest of Sheen Estevez later in the series. She is a dancer that loves funk music, EMO rock, and boy bands.
6- Goddard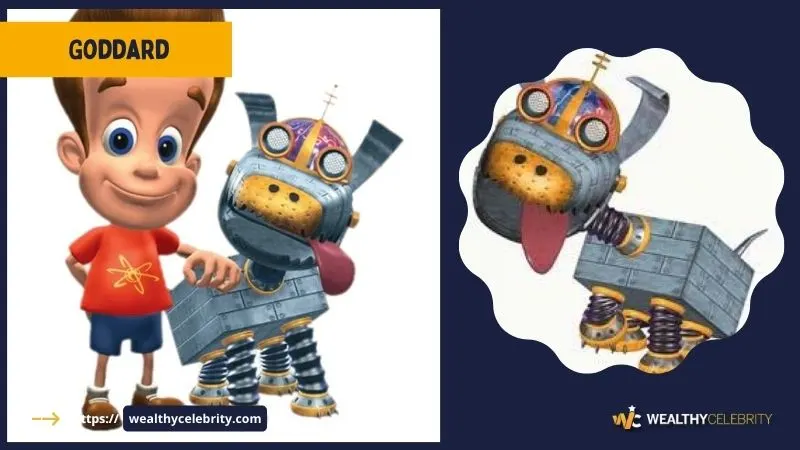 In the entertainment series 'Jimmy Neutron,' Jimmy portrays the role of a loner boy who feels misunderstood even after having a lot of friends. What's a genius to do when he feels like no one understands him? Create a perfect four-legged robot friend, of course! That's why one night, he decided to invent Goddard. Goddard is a loyal robot dog that accompanies Jimmy everywhere – he is even programmed to locate Jimmy when called via phone.
7- Hugh Neutron
Hugh Beaumont Neutron is Jimmy's clueless but good-natured father. He works at an automotive assembly plant. He cares for his family like a father should although sometimes he acts like an idiot and ruins everything. He is named after the late American actor Hugh Beaumont (1910 – 1982) who played Ward Cleaver in Leave It to Beaver.
8- Judy Neutron
One thing is for sure, Jimmy's smart genes have come from one of his parents, his mother, Judy Neutron. The homemaker and baker is a supermom who always loves to be involved in her son's inventions. She is famous for her smart humor, cute personality, and 1950s bangs.
9- Bolbi Stroganovsky
Bolbi is not considered one of the main characters of Jimmy Neutron, but still, we decided to list this adorable personality on our list because of the audience ratings. He is famous as a foreign-exchange student who does not understand English. Because what is more endearing than a foreign-exchange student with a limited understanding of English?
10- Miss Fowl
Jimmy Neutron's teacher Miss Winfred Fowl is one of the most hateable and loveable personalities at the same time. She is notorious for sounding like a chicken squawking when she talks. What a fitting name for this character!
| Cast | Role |
| --- | --- |
| Jimmy Neutron | The Main Hero |
| Sheen Estevez | Jimmy Neutron's closest best friend |
| Carl Wheezer | Jimmy's Kind Friend |
| Cindy Vortex | Girlfriend |
| Libby Folfax | Cindy's best friend |
| Goddard | Jimmy's Hi-tech Dog |
| Hugh Neutron | Jimmy's Father |
| Judy Neutron | Jimmy's Mother |
| Bolbi Strogonovsky | supporting character from The Adventures of Jimmy Neutron |
| Miss Fowl | Jimmy's Teacher |
Who were the voice actors behind the Jimmy Neutron characters?
| Character | Voiced by |
| --- | --- |
| Jimmy Neutron | Debi Derryberry |
| Sheen Estevez | Jeffrey Garcia |
| Carl Wheezer | Rob Paulsen |
| Cindy Vortex | Carolyn Lawrence |
| Libby Folfax | Crystal Scales |
| Goddard | Frank Welker |
| Hugh Neutron | Mark DeCarlo |
| Judy Neutron | Megan Cavanagh |
| Bolbi Stroganovsky | Phil LaMarr |
| Miss Fowl | Andrea Martin |
The bottom line!
We've discussed all the 'need-to-knows' on the mega-popular Jimmy Neutron characters. No doubt, Jimmy Neutron is one of the best cartoon series of Nickelodeon which spawned several franchises because of its popularity – arguably just as popular (if not more) than the top 30 cute Anime Boys of all time. Would it be too unreasonable to expect a reboot in the future?
Frequently Asked Questions About Jimmy Neutron Cast
Q. Why was Jimmy Neutron Canceled?
A. The production costs could no longer be justified by the viewership.
Q. Which Jimmy Neutron character are you?
A. Jimmy Neutron Characters are so relatable to real life. If you think you are hyperactive with ADD, Sheen will surely be the best for you. However, if you are a music nerd, Libby probably suits you better.
Q. Is Jimmy Neutron Streaming on Netflix?
A. Yes, of course! Jimmy Neutron - Boy Genius (2001) is available on Netflix
Q. Who is Jimmy Neutron's girlfriend?
A. Yes! Cynthia "Cindy" Aurora Vortex, also known as Cindy Aurora Vortex, is Jimmy Neutron's appealing and lovely girlfriend.
Q. Does Jimmy Neutron marry Cindy?
A. Cindy Aurora Vortex is Jimmy Neutron's appealing and lovely girlfriend. There's no episode where we see that they both get married.
Q. What is Jimmy Neutrons IQ?
A. Currently, Jimmy Neutron declares that his IQ is 210. The max likely IQ is 200.
Q. Who were Jimmy Neutron friends?
A. Carl Wheezer, Cindy Vortex, Danny Phantom, Goddard, Bolbi, and Sheen are Jimmy Neutron's best friends.
Q: Who did the voice of Jimmy Neutron?
A: Jimmy Neutron voice is played by the famous voice actor Debi Derryberry.
Q: What is Jimmy Neutron Brain Blast?
A: "Brain blast!" was one of Jimmy's catchphrases - exclaimed whenever he found a solution to a problem.
Q: What is the name of the Jimmy Neutron game?
A: Jimmy Neutron: Boy Genius (2001). Jimmy Neutron vs. Jimmy Negatron (2002). The Adventures of Jimmy Neutron Boy Genius: Jet Fusion (2003). The Adventures of Jimmy Neutron Boy Genius: Attack of the Twonkies (2004)