Undoubtedly, today's hot celebs don't have any firm determination to maintain their looks and appearance in the industry. These people simply love to ditch their red carpet look particularly when – Halloween arrives. But, we are not saying they look bland but secretly they don't even know how amazing they look. That's why we would like to disclose these famous personalities' Halloween looks entirely from the covers. Telling you a bit that recently, there are many celebrities whose Halloween looks went viral and created a buzz, and now those pics are circulating on the internet like a wildfire.
Insane Celebrity Halloween Costumes (Updated June 2023)
Below, we have listed the top ten best celebrity Halloween costumes that will surely make you think this is the same personality you love? Take a look.
1- Harry Styles as Elton John
Harry Styles is a well-known Canadian-based singer and songwriter famous for his talkative and cute personality who rocked the look of our favorite Elton John (an English singer, pianist, and composer) back in 2018 at a star-studded Casamigos Halloween party. Moreover, later, the couple won the award of best celebrity couple Halloween costumes of all time.
2- Ciara and Russell Wilson as Catwoman and Batman (the best couples' Halloween costumes)
The famous Ciara and Russell Wilson dressed as Catwoman and Batman for her surprise 30th birthday celebrations back in 2015, and their fans were impressed with their uncanny costumes. The singer Ciara believed that she was getting ready to go to a movie premiere. But she got surprised by guests, including Russell and her son, Future Zahir, who got dressed as Superman.
3- Debra Messing as Iris Apfel
Debra Messing's Iris Apfel costume was one of the best celebrity Halloween costumes last year. The actress copied the 97-year-old fashion icon in her old-fashioned round glasses, a layered outfit, and statement jewellery.
4- Kourtney Kardashian as Ariana Grande
Kourtney Kardashian can't look more adorable and beautiful in her Ariana Grande sweet pink mini-dress, signature high ponytail, and thigh-high boots. She even got approval from Ariana Grande, who posted a series of heart emojis on Kourtney's Instagram snap.
5- Vanessa Hudgens
In 2018, Vanessa Hudgens became the official queen of scary Halloween costumes. She shared dozens of impressive costume pictures with her social media fans and followers, where she is rocking a plunging gown and some great hair and makeup styles.
6- Cindy Crawford and her husband, Rande Gerber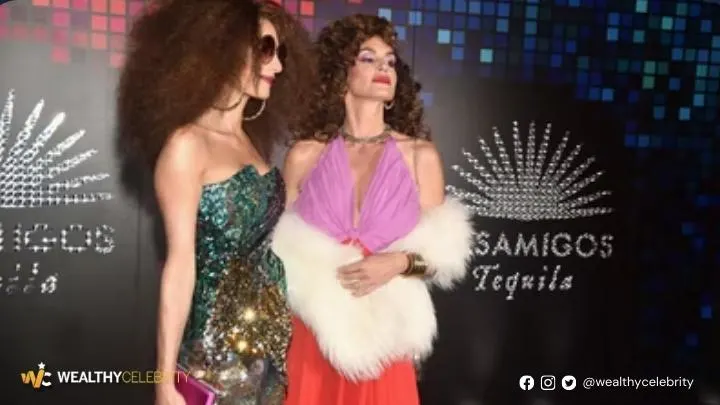 Cindy Crawford and her husband Rande Gerber went as Guns N Roses to a Halloween party back in 2013 that later became the best couple costumes. The supermodel, Cindy, who went with Slash, rocked a black curly wig and a top of her hat, along with a sleeve of tattoos while holding a guitar.
7- Nicole Richie as Danny DeVito
Here comes one of the best women Halloween costumes, where Nicole Richie posed with an Arnold Schwarzenegger look-alike, with the pair rocking matching three-piece suits and black sunglasses. and later, on her Instagram, she posted this picture with the caption: "Happy Halloween from your favorite #TWINS Arnold Schwarzenegger & Danny Devito."
8- Justin Timberlake & Jessica Biel
Here come the most adorable family Halloween costumes. The cute little family of Justin Timberlake, Jessica Biel, and their son Silas looked mighty fantastic in their lego outfits back in 2018. Also, they both shared this post with the caption: "Out here fighting crime in these streets."
9- The Kardashians
This last Halloween was fantastic for The Kardashians. She joined her sisters in the amazing angel costumes that later became one of the best group Halloween costume holders (in the world). Also, after three months, their costumes become the best adult Halloween costumes.
10- Rihanna as Mutant Ninja Turtle
Rihanna dressed as the young Mutant Ninja Turtle in 2014 for one of her close friend's Halloween parties. The famous singer looked completely unrecognizable complete with green body paint, a blue wig, and knee-high gladiator sandals. Also, she was carrying a red eye mask and a sword that completed her look.
The Bottom Line!
To be true, well-known celebrities' Halloween costumes are the spotlight for the worldwide famous spooky season of Halloween. Well, for some unknown reason, many of them kept their breathtaking Halloween pictures away from the social media spotlight. But still, we compiled a list above, where we discussed the top ten best celebrity Halloween costumes that you would surely love.
Frequently Asked Questions About Celebrity Halloween Costumes
Q: What are the best funny Halloween costumes?
A: Mrs. Doubtfire Costume and Macaroni and Cheese Costume are the best and most funny Halloween costumes of all time.
Q: What are the best baby Halloween costumes?
A: Wonder Woman Baby Halloween Costume for girls and Mickey Mouse Baby Halloween Costume for boys are the best baby Halloween costumes trending in the world right now.
Q: What are the hottest costumes for Halloween?
A: The playboy bunny outfit is one of the hottest costumes you can wear to a Halloween party.
Q: What are the best Halloween costumes ideas?
A: Try wearing bright colors on Halloween night to attract people and look more adorable than ever before.
Q: What are the best Halloween costumes for couples worn by celebrities?
A: Casamigos worn by Cindy Crawford and Rande Gerber and Guns N Roses characters worn by Cindy Crawford and her husband Rande Garber are the best couple costumes of all time.
Q: What are the best pregnant Halloween costumes?
A: Well, if you are looking for Halloween costumes for pregnant women, you should go for long loose dresses in bright colors.
Q: What are the best duo Halloween costumes?
A: If you are looking for a duo costume to match your partner or best friend, try the 'sun and moon' Halloween costumes.
Q: What are the best anime Halloween costumes?
A: You should try Spirited Away – Kaonashi or Spirited Away – Kaonashi for a better anime look this upcoming Halloween.