Casey Owen Neistat, also known as just Casey Neistat, has a net worth of about $16 Million. He is a popular American YouTuber, vlogger, and filmmaker, with over 12.5 Million subscribers on YouTube and more than 1 billion views. He also worked as a writer, actor, and cinematographer for the show "The Neistat Brothers" along with his brother.
| Occupation | YouTube personality, filmmaker, vlogger, and co-founder of the multimedia company - "Beme" |
| --- | --- |
| Net Worth | $16 million |
| Age | 42 years |
| Source of Wealth | Social Media and Acting |
| Last Updated | December 2023 |
Because of his popularity and fan base, Casey was fortunate enough to work with multinational brands like Nike, Google, Mercedes Benz, and many more. He created commercials and short films for these brands. Apart from social media, Casey has worked on numerous other enterprise opportunities and, fortunately, was successful in most of them.
Apart from YouTube, the content creator has a substantial following on other social media platforms like Snapchat, Instagram, Twitter, and Facebook.
Casey's Life Behind The Lens:
Casey Neistat's date of birth was March 25, 1981, in Gales Ferry, Connecticut, USA. And as of December 2023, Casey Neistat's age is 42 years. His parents' names are Barry Neistat and Amy Neistat. He dropped out of high school at 17.
Casey became a dad at just 17 with her then-girlfriend. And after that, he left his hometown and moved to New York. In 2005 Casey tied the knot with Candice Pool, but within a month, it ended through annulment. But they got engaged again in February 2013 and finalized their marriage in South Africa on December 29, 2013. The couple has a daughter together.
| Birth name | Casey Owen Neistat |
| --- | --- |
| Known as | Casey Neistat |
| Date of birth | March 25, 1981 |
| Age | 42 years |
| Birthplace | United States of America |
| Famous As | Social Media Influencer, YouTuber, Content Creator, And Actor |
| Education | Graduate |
| Zodiac sign | Aries |
| Nationality | American |
| Ethnicity | Jewish |
| Religion | Jewish |
| Father's name | Barry Neistat |
| Mother's name | Amy Neistat |
| Siblings | Van Neistat and Dean Neistat (actors) |
The Journey from YouTuber to a Renowned Celebrity:
In February 2010, Casey created his YouTube channel with his name as the title. His first video uploaded was about the emergency braking cords of trains. He also released a video about the New York police department for ticketing cyclists. From there, Casey's YouTube career was on the runway, and it took off in March 2015, when he started doing daily vlogging.
The video of him "snowboarding with the NYPD" was the breakthrough video of his career, the video went viral, and he gained a lot of popularity. And since then, the internet personality did many sponsored PR videos and brand collaborations. He made a video about his experience on Emirates' first-class flight, drawing public attention to him and his channel. The YouTube subscribers keep piling up, and the track Casey has more than 12.5 million subscribers.
Under the influence, Casey Neistat's documentary recently brought Casey into the limelight again; in this documentary, he showed the real insights and reality of social media stars starring David Dobrik.
Height
In Feet Inches: 5' 9"
In Meters: 1.75 m
In Centimeters: 175 cm
Weight
In Kilograms: 72Kg
In Pounds: 158 lbs
Body Measurements
N/A
Age
42 years
Eye Color
Brown
Hair Color
Dark Brown
He is also known for his filmmaking skills:
In 2001 Casey and his brother Van Neistat started filming short films with the help of Tom Sachs; Tom Sachs is a sculptor and is best known for his recreation of modern arts and icons. Casey produced a 3-minute video, "iPod dirty secrets," in which he criticized Apple for a battery replacement that gave him international exposure. The footage was gaining so much attention that even Apple noticed the issue. Casey then continued to produce more short films regarding different scientific experiments, which were included in Creative Times 59th Minute Program.
In 2008 Casey, his brother, and his friends made an eight-episode TV series named "The Neistat's Brother, " later purchased by HBO. Not only did his films get recognition, but his high-end commercials for brands like Nike, Google, Samsung, Mercedes Benz, and Finn Jewellery increased his fame and made him a celebrity today.
The entrepreneurial journey of Neistat:
Content creation is a different dimension, and an entrepreneurial journey is a different league; taking both parallels is never easy. Casey and his friend developed a video-sharing application called "BEME." The first version was launched on IOS on July 17, 2015; the app allows users to produce unedited 4-sec video and instantly share it. The android version was later launched in November 2016. Later CNN acquired the app for $25 million, but unfortunately, the app was shut down in January 2017.
He has earned multiple awards and achievements:
Neistat has earned many awards because of his work and projects. In 2010 he received his first award 'John Cassavetes Award,' and later, in 2016, he won "Streamy Award" in the category of 'Best Editing.' He also won the "YouTuber of the year" award. Also, he won the GQ "New Media Star Award."
Who is Casey Neistat Wife? – Let's Know It!
Casey Neistat is a married man who has been married to Candice Pool – since 2013. The couple met back in 2010, and as of now, the couple has two daughters, whose names aren't officially revealed to the media. Moreover, he has one son with Robin Harris.
| Marital status | Married |
| --- | --- |
| Girlfriend | Candice Pool |
| Wife | Candice Pool |
| Past relationships | N/A |
| Kids | Two daughters and one son |
Casey Neistat Net Worth as of December 2023
Casey is estimated to be above $16 million. He has an average view of 2.6 million on every video, and the average monthly income from YouTube is around $5000- $8000 based on views and videos uploaded.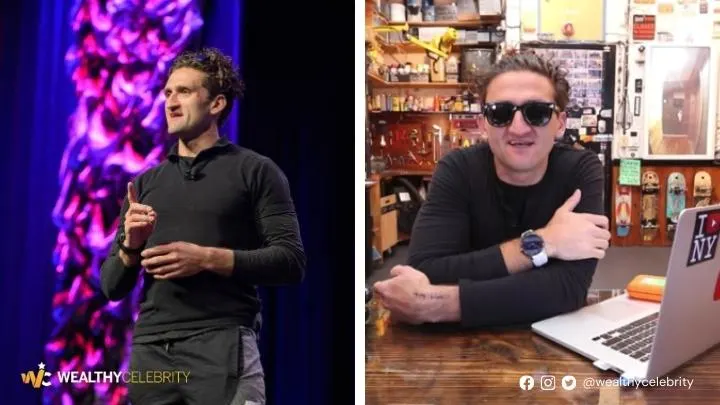 Casey Neistat pictures from his Acting and Youtube Vlogging Career (His main Source of Income)
| Net worth | $16 million |
| --- | --- |
| Source of income | Social media and acting |
All About Casey's Favorite Things
| Hobbies | Making videos |
| --- | --- |
| Favorite Food | N/A |
| Favorite Color | Green and orange |
| Favorite Place | N/A |
| Favorite TV Show/Movie | Spider-Man |
| Favorite Actor | Chris Perez |
| Favorite Actress | Addison Rae |
| Favorite Singer | Willow Smith |
Casey Neistat Twitter And Other Social Media Profiles
Frequently Asked Questions
Q: What is Casey Neistat YouTube?
A: Casey Neistat has a self-titled YouTube channel - (Casey Neistat).
Q: How Tall Is Casey Neistat?
A: Casey Neistat's height is 5 feet 9 inches or 175 cm.
Q: What Is Casey Neistat Weight?
A: Casey Neistat weighs around 72 kg or 158 lbs.
Conclusions
Casey Neistat is the best yet most inspiring YouTube personality that has been blessing our social media feed since the year 2010. Well, we hope that this post was informative and helpful for you all!
What are your thoughts on Casey Neistat's net worth? Share with us in the comments!