Having a great number of fans sounds amazing until the haters come out and let your guard down by using their words in your comment section – or maybe sometimes on the streets. Many stars have faced these problems throughout their career without saying a word, but on the other hand, there are only a handful of real champs who know how to cut off their haters and criticism on the go.
Here, we will list the ten top Hollywood celebrities who have shut their haters down on the go. Read onwards!
These Are The Celebrities Who Always Know How To Slash The Hate:
Below we have listed some fun-to-read happenings that your favorite celebrities have with their haters so far. Take a look:
#1: Selena Gomez Always Choose Kindness, No Matter What The Situation Is!
Before diving into some "real" controversial communications with haters, we would like to list the music industry queen Selena Gomez who always chooses kindness, even while responding to her haters.
So, back in 2014, when a hater commented a hateful statement on one of her Instagram posts saying, "I Hope You End Up Burning In Cancer," the singer responded in a very patient and kind way. She said, "Frankly, I don't talk much because it's always out of context. But I don't take bullying so well. I have seen too much not to say anything." This statement simply shows her respect and the level of affection she has toward her audience.
#2: Act Like Zendaya To Make Them Feel The Same
In the mid-2000s season, when the "Spider-Man: No Way Home" star Zendaya entered the red carpet looking like a total goddess with her hair in dreadlocks, the Fashion Police host Giuliana Rancic shared some offensive remarks regarding her Oscar hairstyle.
At that time, the young star took an impressive mature step by putting her guard down, but later, she literally burst up on Instagram via a post in which she defended the American-African community while forgiving that host wholeheartedly.
#3: Taylor Swift Has Always Followed Her "Shake It Off" Principle
There was a memorable time when Taylor Swift and Lorde were BFFs until Lorde roasted the "Blank Space" star in an interview with Xpose. And unlike other celebrities who take things seriously, Swift chose to shake it off by sharing an I-Don't-Care statement. She told the world that she is just as perfect as she seems in her projects and understands how rough people can feel when they cannot reach where she is standing right now.
#4: The Way Justin Bieber Defended His Friends From Haters Still Sounds Iconic
After Justin Bieber and Selena Gomez broke up, both sides experienced the negative side of the world, even when they were out on the streets with their friends. It was time for Spring, and Justin was out with some of his buddies, and suddenly a hater showed up and told him how bad his friend selection was.
In response, the pop star defended his besties on the spot by sharing some remarkable lines about human rights and the fact that all human beings are equal – no matter whether they are black or white because they are the one who makes him feel happy and a better person.
#5: Kendall Jenner Knows How To Make Them Feel Embarrassed With A "Laugh" Only
It wasn't once or twice; Kendall has spent a lifetime dealing with hate. But the fun fact about this supermodel is that she always made her haters feel embarrassed with her laugh only. Also, she once collaborated with Columbine Goldsmith, where she wrote everything on a Burn Book to tell all the critics out there that "She Could Care Less."
#6: Demi Lovato's Secret To Staying Cool With Her Haters
After facing Eating Disorder issues, Demi had to face criticism about her physique. And in 2014, when a hater said, "shut up fatty, don't choke on ur McDonalds," the actress responded in a very cool way via her Twitter account, saying:
#7: Ariana Grande Following In The Footsteps Of Her "IceCream" Song Co-Writer Selena Gomez
Ariana Grande is known for her kindness, sweet attitude, and the art she releases in her songs on her YouTube channel. She once faced criticism when she released her new era, and haters came out and called it lazy and boring. She responded to it in a sad tone, but at the same time, she tried to keep things stable by being kind and understanding. She said: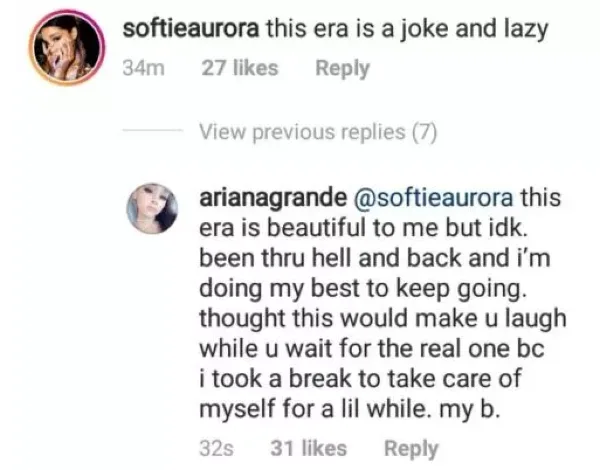 #8: This Is How Gigi Hadid Chose To Criticize Her Haters
Gigi Hadid is another renowned model and has been going through body shaming and criticism about her work since she stepped into the world of professional modeling. And after discovering the true version of herself, we don't think that this new girl of Leonardo DiCaprio will hold back to shut her haters down.

#9: J.K Rowling Loves Teaching Her Haters A Lesson
The Harry Potter story writer responded to a sarcastic tweet to a hater while teaching him a lesson that in free countries, everyone is allowed to share their remarks – no matter whether it's politics or the entertainment industry. Take a look at their conversation below:
#10: Zach Braff Picks The Straightforward-Approach To Slash The Sarcasm
Here comes the last yet most legendary tweet response of one of our favorite celebrities – Zach Braff. In this conflict between a megastar and a hater, we can see a girl named Olivia Loy sharing sarcastic remarks on Zach's profile picture and the celebrity shutting her down like this:

Wrapping Up!
These were the top 10 celebrities from the entertainment and music industry who knew the art of shaking the criticism off with their words and actions. And if being honest, it's so much fun to see how their confidence never lets the same hater talk crap about them again.
What do you think about these celebs who know how to take hate comments in stride? Share your thoughts with us in the comments.