The 26-year-old former Miss Croatia – Ivana Knoll, a model, and influencer, showed off some of her most revealing clothing throughout the world cup despite Qatar's hidebound rules of not wearing anything that exposes extra skin. This led many people from different religions to title her "Disrespectful" as she didn't respect the dress code properly. But according to the western audience and Ivana herself, it's okay to wear such things, and Qatar's government should let Catholics wear whatever they want during the time of world cup.
Following this, there are many celebrities like Andrew Tate and Tristan Tate who supported the new rules of Qatar by sharing videos on the platforms they have access to. Still, on the other hand, multiple megastars stood beside former Miss Croatia, which is, of course, not acceptable in the Arab community.
What Did Ex-Miss Croatia Do During The World Cup In Qatar, Which Led Everyone Talk Bad Things About Her?
Basically, Ivana Knoll is a Victoria's Secret magazine model who is known for wearing revealing outfits and shooting for adult magazines. She badly wanted to see the world cup 2022 (likewise, other celebrities), but on purpose, she didn't follow the dress code, where you are not allowed to show extra skin like belly, knees, and shoulders.
It all started here when she uploaded a picture asking her fans "what do you think how I will dress in Qatar"
Then she made her first appearance & entered the stadium in a less revealing dress
But after entering the stadium she opened up way too much and roam inside the stadium in a quite revealing dress.
The below-mentioned photo went viral on all social media platforms and meme channels as there were multiple men who were snapping at her throughout the event, a Qatari business named Mohammed Hassan Al-Jefairi used social media to clear their act by saying, "Just for your information, they don't take the picture because they like her, but because they don't like the way she is dressed, in a way that is inappropriate for our culture." – Source
She said, "I thought that at the world cup, we could wear whatever makes us comfortable, but after reading the rules, I was super angry because even in my wardrobe, I don't have such clothes that can cover their expectations." She later added, "As far as when I reached the stadium, no one stopped to wear such things, but later, Qatar's government started getting angry at me."
Following that, the model stated, "If we allow and respect Muslims who wear Hijab and cover themselves the way they want in our country, their community, they should also let Catholics wear what makes them comfortable at such events."
Later on, she was taken off Stadium in somewhat covered clothes.
As per different sources, few said that she was taken off the stadium while others claim that authorities just warned her and never asked her to leave.
View this post on Instagram
She kept on sharing her revealing photos at different places across Qatar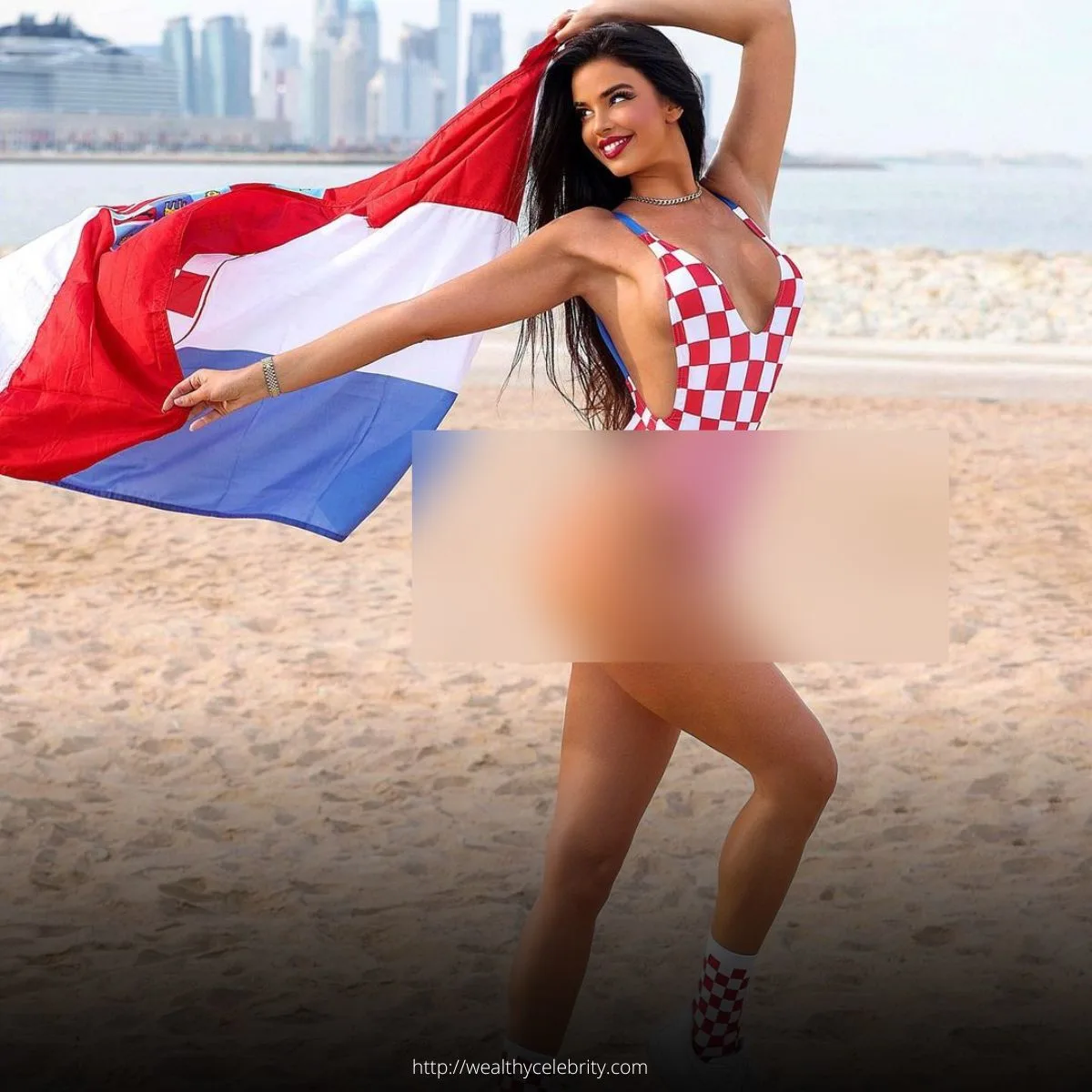 Recently, she appeared on Piersmorgan show to share her view about her dressing in Qatar
She clarified that she checked with many Qatari locals and they advised her that during the world cup authorities have relaxed many rules including modest dressing & thats why she dressed up exactly the way she dressed outside Qatar.
View this post on Instagram
Wrapping Up!
When it comes to tourists attending a sporting event, Qatar requires attendees to keep modest with their outfits. Well, after the buzzing scene, things are getting hotter in this matter as time passes. Most people (including megastars) stand with Qatar's rules as they only ask to show respect for the local culture by avoiding excessively revealing clothing in public. And following the Arab community's culture and values, the gulf nation's tourism board restated a rule in Qatar's favour.
What do you think about the Ex-Miss Croatia Qatar World Cup buzzing scene? Let us know in the comments.