Francis Olowu Ofili Adetokunbo, better known as Francis Antetokounmpo, is a Greece-based basketball player, Soccer Player, and musician famous for being the older brother of legendary two-time NBA MVP Giannis Antetokounmpo of the Milwaukee Bucks who is one of the highest paid NBA players in the world.
He is recognized in the sports industry for being the eldest brother of his siblings – Giannis Antetokounmpo, Thanasis Antetokounmpo, Kostas Antetokounmpo, and Alex Antetokounmpo (all are involved in basketball, soccer, and football).
Quick Look At Francis Antetokounmpo's Biography
Francis Antetokounmpo
Wiki/Facts
Full Name
Francis Olowu Ofili Adetokunbo
Father's Name
Charles Antetokounmpo
Mother's Name
Veronica Antetokounmpo
Siblings
Thanasis Antetokounmpo
Giannis Antetokounmpo
Kostas Antetokounmpo
Alex Antetokounmpo
Relationship Status
Unknown
Birthdate
October 20, 1988
Age
34 years
Height
6'5''
Weight
168 lbs. (76 kg)
Nationality
Greek
Birthplace
Lagos, Nigeria
Profession
Soccer Player
Basketball Player
Musician
Net Worth
$1Million
Chest Size
44 Inches
Waist Size
32 Inches
Bicep Size
16 Inches
Shoe Size
9
Hair color
Black
Eye Color
Dark Brown
Zodiac Sign
Libra
Info Updated
2023
Francis Antetokounmpo Belongs To A Sports Fanatic Family
Antetokounmpo's birth name is Francis Olowu Ofili Adetokunbo. This was changed to Francis Antetokounmpo after a mis-spelling on his immigration documents, and the family all decided to permanently change their names. He is currently 34 years old and was born on October 20, 1988, in Lagos, Nigeria.
He belongs to a family where almost everyone, including his siblings, is into sports.
His parents are Charles Antetokounmpo and Veronica Antetokounmpo. Charles was a professional Nigerian soccer player and Veronica was a high jumper. Francis Antetokounmpo is the eldest of five brothers and the names of his other siblings, in descending age order, are Thanasis Antetokounmpo, Giannis Antetokounmpo, Kostas Antetokounmpo, and Alex Antetokounmpo.
Thanasis is a 6 ft. 7 in. Greek-Nigerian professional basketball player of the NBA who plays for the Milwaukee Bucks. He plays the small forward and power forward positions. Thanasis and his younger brother Giannis won the championship together in 2021 with the Bucks.
Kostas is a 6 ft. 10 in. Greek-Nigerian professional basketball player, currently of the Turkish BSL and EuroLeague. He was drafted 60th overall by the Phildelphia 76ers in the 2018 NBA draft and his draft rights were then traded to the Dallas Mavericks. He won an NBA championship with the Los Angeles Lakers in 2020.
Alex is 6 ft. 8 in. and was a high school phenom in Wisconsin averaging 20 points and seven rebounds per game as a senior and was a two-time all-state selection. He chose to forego college basketball but was undrafted in the 2021 NBA draft. He currently plays for the Wisconsin Herd in the NBA G League.
He Is The First Musician In This Family Of Athletes
Besides being older than all of his siblings, Francis Antetokounmpo is unique for being the first musician in his family. He developed an interest in music in childhood, but was always influenced by his fathers' love of soccer. Due to Charles' inspiration, he also pursued soccer and even became a professional midfielder in Nigeria and Greece!
Aside from soccer, he played football and basketball, but ended up following the dream of becoming a well-known musician and currently has ten songs available on YouTube music. His musical genre has been described as a mixture of Afro Beats, Hip-Hop, and Trap Music.
He Named Himself "Ofili" After Gaining Fame
Francis goes by the musical moniker "Ofili." Ofili is his middle name, and is the Nigerian word meaning 'wisdom and greatness.' He released his first single, "Shekosi" on July 16, 2020. His Instagram, promoting his music, currently has 103,000 followers.
To Date, His Love Life Is Undisclosed
With regard to Francis' dating status, his sexuality is straight, and he is single at present. Moreover, he is too private about his personal life and has not given any information about it to any media. Also, his social media, such as Instagram and Twitter, does not give any hint regarding his love life.
Get To Know His Net Worth And Sources Of Income
As per the Players Bio website, Francis has an estimated net worth of $1 million. He accumulates this money from his music and acting career.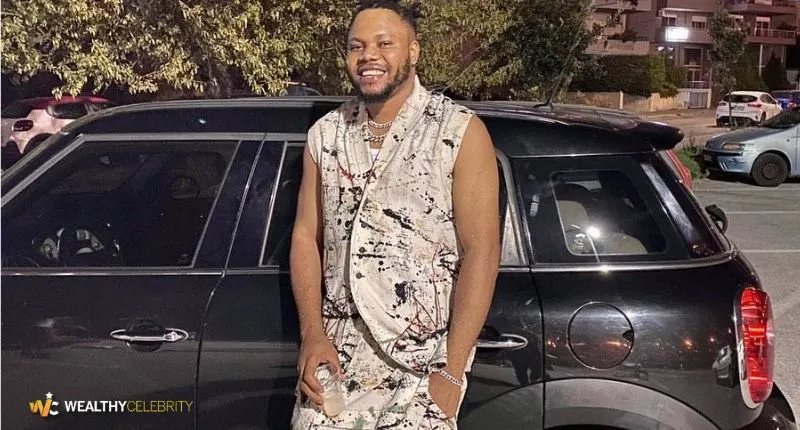 What's Francis Antetokounmpo Instagram? – All His Social Media Channels
Frequently Asked Questions:
Q: What team does Francis Antetokounmpo play for?
A: Francis Antetokounmpo previously played professional soccer for Nigeria and Greece.
Q: How tall is Francis Antetokounmpo?
A: He is (relatively) tall with a height of 6 feet 5 inches.
Q: What does Francis Antetokounmpo do?
A: Francis Antetokounmpo was a semi-pro basketball player and professional soccer player but he is more passionate about music. This is what makes him stand out from his four other brothers.
Q: Does Francis Antetokounmpo Have Any Children?
A: No, as of now, Francis Antetokounmpo does not have any children.
Q: What Is Francis Antetokounmpo Weight?
A: Francis Antetokounmpo's weight is 76 kilograms or 168 pounds.
Q: Is Francis Antetokounmpo Married?
A: No, as of now, Francis Antetokounmp is not married.
Q: What Is Francis Antetokounmpo Zodiac Sign?
A: Francis Antetokounmpo's zodiac sign is Libra.
Popularity On Google:
The Bottom Line!
Francis' soccer and music obsession has helped him gain fame and media attention. Aside from being most popular as the brother of Giannis Antetokounmpo, his own talents have not gone unnoticed and we are excited to see what he has to offer in the future.
What do you think about Francis Antetokounmpo and his siblings? Let us know in the comment box below.