The name Mukesh Dhirubhai Ambani is hard to elude when we count down the top richest people in the world. He has recently taken down the Silicon Valley powerhouse Elon Musk, owner of Tesla, and is currently ranked at number six on the list of top 1 percenters. His net worth is $104 Billion as of 2023.
Yes, you read that right. Let me make it a bit more understandable. Mr. Ambani's net worth in Indian Rupees is Rs. 6.53 Lakh Crore. Let us take a deeper dive into his business and career history to find out how he ended up making such a ginormous fortune.
Mukesh Ambani
Wiki/Bio
Full Name
Mukesh Dhirubhai Ambani
Nickname
Muku
Net Worth:
93 Billion USD
Birth:
April 19, 1957
Age:
66 years
Height:
5 ft 5 in
Complexion:
Dark
Country of Origin:
Aden, Yemen
Country Now:
Mumbai, India
Nationality:
Indian
Love Life:
Married to Nita Ambani
Parents:
Dhirubhai Ambani (father), Kokilaben Ambani (Mother)
Children:
3
Siblings:
Anil Ambani (brother), Nina Bhadrashyam Kothari, and Dipti Dattaraj Salgaocar (Sisters)
Education:
BE in Chemical Engineering from the Institute of Chemical Technology, MBA at Stanford University (drop-out)
Source of Wealth:
Chairman and MD, Reliance Industries
Source of Fame:
India's Biggest Business Tycoon, and Chairman and MD, Reliance Industries
Marital Status
Married
Favorite Food
Idli Saambhar (South Indian Cuisine), Paanki (a Gujarati recipe), Dosa, Gujarati Cuisines, Roasted Groundnuts
Jet Collection
Boeing Business Jet 2, Falcon 900EX, Airbus 319 Corporate Jet
House/Estate
• A 27-story house, Antilia, worth $1 billion (approx.)
• Stoke Park, Buckinghamshire, United Kingdom (Mukesh Ambani's Reliance Industries Ltd bought this iconic country club and luxury golf resort of Britain for 57 million pounds (about Rs. 592 crore)
Hair Color:
Black
Weight:
198 lbs
Eye Color:
Dark Brown
Cars Collection
Bentley Flying Spur, Rolls Royce Phantom, Mercedes Benz S Class, Maybach 62, BMW 760li
Favorite Restaurant
Mysore Cafe, Matunga, Mumbai
Favorite Car
Maybach
Favorite Color
White
Favorite Businessman
Dhirubhai Ambani and Anand Mahindra
Controversies
• He is often criticized for manipulating bureaucrats.
• In 2004, he was criticized for his feud with his younger brother, Anil Ambani, for control over Reliance Industries.
Hobbies
Reading, Hanging out with friends, Watching movies, Jungle adventure, Listening to old Hindi songs, swimming, doing long-walks
Caste
Vaishya (Gujarati Modh Bania)
Religion
Hinduism
Hometown
Mumbai, India
Zodiac sign
Aries
Birthplace
Aden, Colony of Aden (now Yemen)
Last Updated:
2023
Mukesh Ambani Was Born In Yemen
Born in the British Crown colony of Aden, Yemen in the present day, Mukesh spent only one year in Yemen. In 1958 his family moved back to India as his father wanted to start a business focusing on textiles and spices. Their textile business was named "Vimal," but later, they changed the name to "Only Vimal."
At that time, his family was not stable financially, and they lived in a two-bedroom apartment located in Bhuleshwar, Mumbai. After 1970, his father Dhirubhai purchased a 14-floor apartment block known as "Sea Wind" in Colaba, Mumbai. Although their financial condition started improving after moving back to India, still Ambani, Asia's richest man today, used public transportation without getting any allowance and lived in a communal society.
He Left His Education To Support His Father In His Business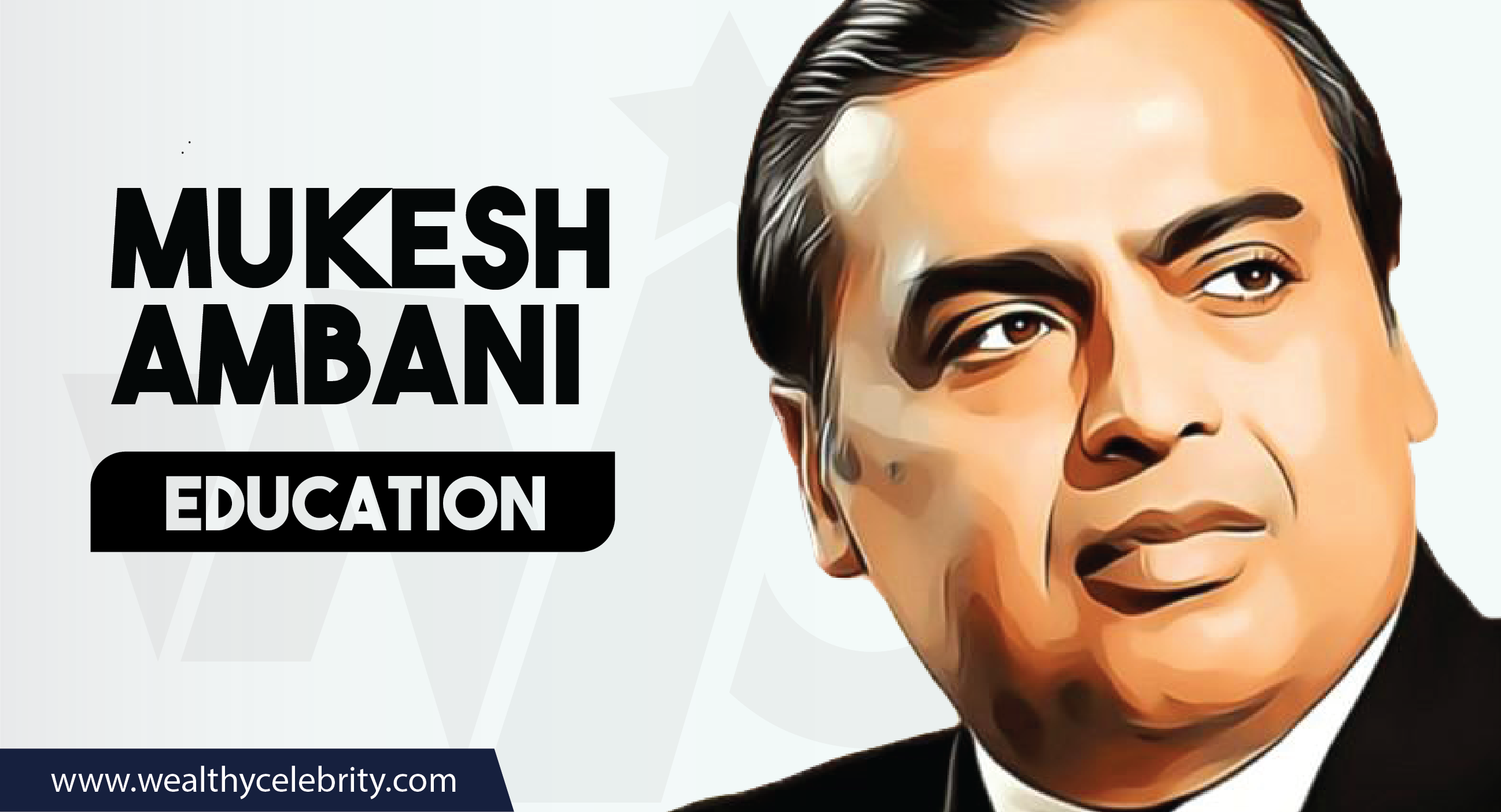 Believe it or not, Mr. Mukesh did not get any special education. He started his early education at Hill Grange High School in Mumbai, India. After going through St. Xavier's College Mumbai, he went on to receive his BE degree in Chemical Engineering from the Institute of Chemical Technology.
Ambani later started an MBA degree at Stanford University, but in 1980 he withdrew to help his father in his business. At that time, Reliance's net worth was around $700 Million. As a businessman, his father believed that skills are gained through experience rather than sitting in a classroom, so he called Ambani back to India to look after a yarn manufacturing project of his company.
He Started His Career At His Family Business
Ambani's professional life started in 1981 when he decided to help his father in running their family business known as Reliance Industries Limited. Mukesh Net Worth today is all because of this Reliance.
When he joined this business, it has already grown and expanded from textiles and spices to dealing in petrochemical and refining. In 2016, Ambani was on the 38th number, and he consistently held this rank for the past ten years as India's richest person on Forbes Magazine's list. Along with that, he is the one and only Indian businessman who is on the Forbes list of the World's Most Powerful People.
In January 2018, he jumped to the 18th-wealthiest person in the world on the Forbes list. In July 2018, he became the richest person in Asia, and the net worth of Ambani back then was $44.4 Billion. He left behind Jack Ma, the executive chairman of Alibaba Group. Not only in Asia, but he is also the wealthiest person in the world outside Europe and America.
He Exchanged Wedding Knots Back In 1985
Mukesh married Nita Ambani in the year 1985, and they have a daughter named Isha and two sons named Akash and Anant. It was an arranged marriage, and Ambani's father chose Nita for him after watching a dance performance of Nita.
A Quick Check Into Where This Billionaire Spends His Money
Mukesh and his family reside at the Antilia Building in Mumbai, which is one of the most expensive residences in the world, having 27 stories, and its value is about $1 Billion. You can have the idea of the wealth of Ambani from his residence and living standards. For maintenance of the building, a staff of 600 people is required; this building has a private movie theatre, a fitness center, three helipads in it, a swimming pool, and a 160-car garage.
For Nita Ambani's 44th birthday, Mukesh gifted her an Airbus A319 worth $60 Million. The Airbus holds the capacity of 180 passengers, and it has been custom fitted to include satellite television, Jacuzzi, a living room sky bar, a bedroom, WiFi, and an office.
He is the founder of the Indian Super League that is a football league in India, and through his company Reliance, he owns the Indian Premier League franchise Mumbai Indians for $111.9 million. In 2012, Ambani's net worth was 21 Billion, and he was entitled as the richest sports owner in the world by Forbes.
Highlights From His Career
In 2015, Ambani was appointed as a Director of Bank of America, and he is the first non-American who was on its board.
Mukesh's father died in 2002, and after that, Ambani and his brother divided up the entire family empire.
Ambani is the owner of $88 billion (revenue) oil and gas giant Reliance Industries and runs it.
Mukesh Industries

, Reliance, is one of the most valuable companies in India.

He has control of 42% of Reliance Industries, and his other businesses include a 4G wireless network all across India.
During the Covid-19 lockdown situation, he sold a third of Jio to a string of investors like Google and Facebook and raised more than $20 Billion.
5 Famous Quotes of Him
The business of Mukesh has no doubt brought tremendous success and fame for him. And during his journey, he learned a lot of valuable lessons and shared them with other people.
"Essentially, whoever is successful, whoever is going to do things that make a difference, is going to be talked about." – Mukesh Ambani

"All of us, in a sense, struggle continuously all the time, because we never get what we want. The important thing which I've really learned is how do you not give up, because you never succeed in the first attempt". – Mukesh Ambani

"Dance to your own music and take some risks in life, because it is often the risk taker who changes the course of history, and contributes to the well-being of millions of lives." – Mukesh Ambani

"It is important to remember, there are no overnight successes. You will need to be dedicated, single-minded, and there is no substitute to hard work." – Mukesh Ambani

"I don't think that ambition should not be in the dictionary of entrepreneurs. But our ambition should be realistic. You have to realize that you can't do everything". – Mukesh Ambani
10 Most Inspirational Quotes By Mukesh Ambani (Images)
Here are 11 quotes by the billionaire business magnate: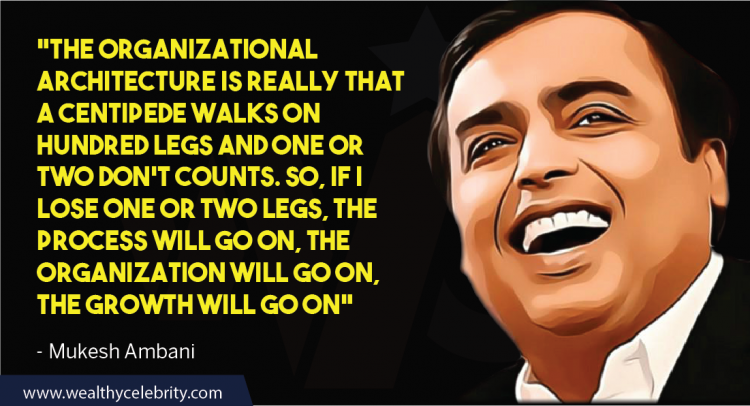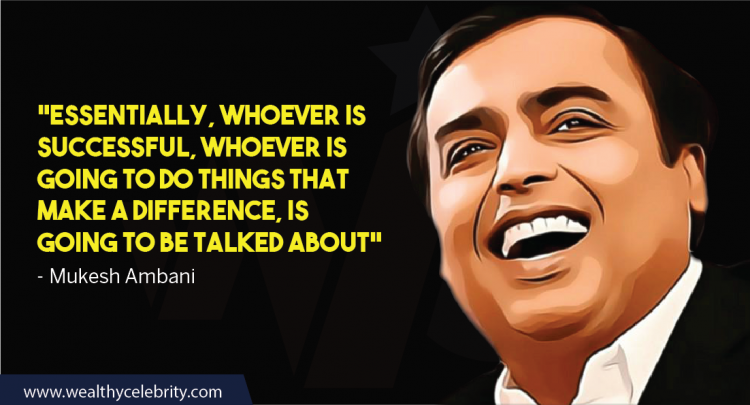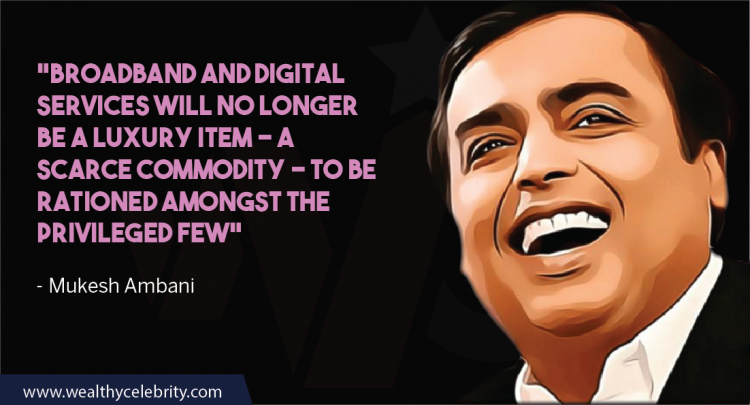 Mukesh's Social Media Profiles
Mukesh Ambani Popularity on Google
Frequently Asked Questions
Q: What is Mukesh Ambani's date of birth?
A: Mukesh Dhirubhai Ambani was born on April 19, 1957, in Aden (present-day Yemen) to Dhirubhai Ambani and Kokilaben Ambani.
Q: Mukesh Ambani Age: How Old Is Mukesh Ambani?
A: Mukesh Ambani's age is 64 years old as of 2022.
Q: How Tall Is Mukesh Ambani? height in feet?
A: He is 5 feet 5 inches in height (5′ 5″) and 169 cm in Centimetres tall.
Q: What is Mukesh Ambani's weight in 2022?
A: He weighs about 198 lbs in Pound and 90 kg in Kilograms.
Q: Who is Mukesh Ambani's Wife?
A: Nita Ambani is the wife of Reliance Industries chairman and managing director Mukesh Ambani.
Conclusion
Mukesh's net worth is $104 Billion, which makes him one of Asia's Richest People and the wealthiest person in India. Ambani is the first Asian to be included in the list of wealthiest people in the world. He is a billionaire business magnate who has doubled his income in a decade.
We have shared all the career, personal, professional, and Mukesh Ambani house details with you here; if we have missed something, you can add it by commenting below. Or, if you know some other interesting facts about Mukesh Ambani, do share them with us.