Oliver Tree is a remarkable LA-based singer, rapper, music producer, filmmaker, and comedian who is known for his eccentric style and outlandish visuals in his music videos. Oliver Tree's 'Hurt' and 'When I'm Down' was his segue into fame and why his fans call him an 'enigma of the genre,' but this man has been at work in the industry since 2010 and his study of music began more than a decade before that.
Due to his trending popularity over the years, more people are searching for specifics on Oliver including life insights, love life, kids, and his family. In our last post, we told you all about Shay Rudolp and went deep into her biography. Here, we not only gathered everything Oliver Tree fans need to know but have also done the research to reveal the true facts about his family not found on other sites covering this artist.
Below we will discuss the net worth, family, love life, and career of Oliver Tree Nickell.
Family
Oliver Tree's full name is Oliver Tree Nickell, but he goes by his stage name, Oliver Tree. Oliver took his first breath on June 29, 1993, in Santa Cruz, California. His parents' names are Jesse L. Nickell III and Christine Nickell. He has one brother, Jesse Nickell, who was born in May 0f 1991, which makes him around 31 years of age.
Early Musical Career
Oliver began his musical career at a very young age when he began piano lessons at the age of three. By the age of six, he had written his first album and by high school, he was performing in public playing the guitar with his ska band, 'Irony.' It was during high school that Oliver started to explore other genres of music including electronica, alternative hip-hop, and dubstep.
By 17, he had made a name for himself as a DJ and performed his self-produced dubstep at festivals under the stage name 'Kryph.'
At the age of 18, Oliver signed with London-based R&S Records and released his debut EP, 'Demons.' Despite his success, Oliver decided to go back to school, studying music technology at the California Institute of the Arts. A month prior to graduating, he released "When I'm Down" which was popular enough to garner the attention of Atlantic Records. Shortly after the release, he was signed to Atlantic.
On February 2018, Oliver released his major-label debut EP, 'Alien Boy', along with the double music video for 'All That x Alien Boy.' He spent over five months practicing freestyle monster truck jumping in order to perform all the stunts himself in the music video.
Awards and Accolades
| Year | Award | Category | Result |
| --- | --- | --- | --- |
| 2023 | Kids' Choice Awards | Favorite Social Music Star | Nominated |
| 2022 | Kids' Choice Awards | Favorite Social Music Star | Nominated |
| 2020 | Guiness World Record | Largest Kick Scooter | Won |
Oliver Tree
Wiki/Bio
Birth Name
Oliver Tree Nickell
Nick Names
Oliver, Tree, Turbo, and Kryph
Gender
Male
Net worth
Est. $3.19 million
Profession
Singer, Producer, Filmmaker, and Instagram Star
Famous for
His viral song named When I'm Down
Age
30 years
Date of Birth
June 29, 1993
Birthplace
Santa Cruz, California
Nationality
American
Ethnicity
Caucasian
Religion
Christianity
Zodiac Sign
Cancer
Currently resides in
Los Angeles, California
Height
5′ 7″
Weight
165 lbs. (75 Kg)
Eye Color
Brown
Hair Color
Dark Brown
Father
Jesse Nickell III
Mother
Christine Nickell
Sibling(s)
Jesse Nickell IV
Marital Status
Unmarried
Highest Qualification
Graduate with a Bachelors degree
Alma Mater
1. San Francisco State University
2. California Institute of the Arts
Labels
Atlantic; R&S
Genres
Indie pop; electronic; alternative hip hop; alternative rock
Associated acts
Whethan; NVDES; Getter; Blink-182; Lorenzo
Instruments
Vocals, Guitar
Last Updated
2023
Net Worth Insights
According to several other authority websites online that cover celebrity biographies, his estimated net worth ranges from $500,000 to $3.19 million. However, we believe these estimates might be on the low end as if you were to look at his YouTube ad revenue, alone, he earns around $120,000 – 290,000 per month. We estimated this figure using his channels' monthly views of 42M per month, divided by 1000, and multiplied by $3-7 (what YouTube typically pays per thousand views – RPM).
Merch
Can you really call yourself a fan if you don't own the merch? No. Good thing for you Oliver provides merch on olivertreemusic.com where he sells some chic hoodies, tees, album cover art, and more. The variety of merch available is as unique as his bowl cut, ranging from a $25 cowboy bolo tie to a $90 Indian pattern Holiday Sweatshirt.
How Old Is Oliver Tree?
According to his date of birth, June 29, 1993, Oliver Tree is 30 years old.
Body Measurement Insights
Oliver Tree is 5′ 7″, and weighs 165 pounds (75 Kg). His zodiac sign is Cancer. Oliver's real hair color is Dark Brown and he has brown eyes.
Love Life Of Oliver Tree And Melanie Martinez
Oliver Tree is an unmarried man and has no kids. He was previously dating Melanie Martinez but they both publicly confirmed their split in 2021.
Below is a timeline of the relationship between Oliver and Melanie:
| Date | Event |
| --- | --- |
| September 30, 2019 | Oliver and Melanie both post photos of themselves, confirming they are dating |
| July 2020 | Both Olive and Melanie delete all photos of each other on their Instagram accounts |
| May 12, 2021 | Melanie posts a story confirming the breakup. Oliver reposts. |
| March 31, 2023 | Melanie discusses the meaning of her song 'Evil' on her 2023 album 'Portals' |
Melanie Martinez on her song 'Evil' on AppleMusic:
"My favourite of the conflict songs. It flowed. It was a mental turning point, where I was finally able to articulate perfectly what I had dealt with in my last relationship. I wanted the lyrics to be the most savage—every time I wrote something, I was like, 'No, it's not mean enough.' It's about dealing with a narcissist who ironically calls you evil because you're able to see through them. I spent the entire day blowing out my vocals recording it."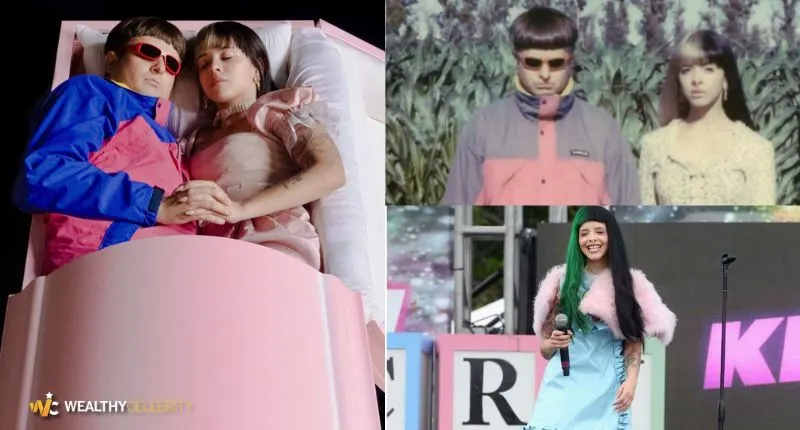 FAQ's
Q: Is Oliver Tree Gay?
A: No, Oliver Tree isn't gay.
Q: Does Oliver Tree Have Any Kids?
A: No, Oliver Tree doesn't have any kids.
Q: Who's Oliver Tree Favorite Actress?
A: Emma Watson is the favorite actress of this mind-blowing singer.
Q: Is Oliver Tree Married?
A: No, Oliver is an unmarried man at this moment.
Social Media Profiles
Popularity on Google
Final Thoughts
With over 1.9M followers on Instagram and 5.35M subscribers on YouTube, Oliver has been trending in the last 12 months on Google Trends. His IG post in early November of 2022 with Belle Delphine and collaborations with megastars such as David Guetta have us thinking that we'll be seeing much more of this artist in the future. Here's to his longevity!