The Bollywood showbiz industry has produced famous flittering celebrities in the field of acting, dancing, and singing as well over the years.
Top singers from the industry have mesmerized their audience with their soulful and enchanting voices by fulfilling the expectations of their fans. The versatile tonal universality of Indian singers has made them the best-selling music artists in the world.
Many singing stars have emerged from the galaxy of Bollywood who perceived colossal fame and success by the magic of their soulful voice. Music plays a crucial role in the success of the Bollywood film industry even before the release of the film. Nowadays, the soundtracks of films decide whether a movie will be a hit or a flop.
List of Richest Bollywood Female Singers
The most famous female singers in India have become the Richest Bollywood singers by their charming voices. Following are the top richest Bollywood singers:
1 – Shreya Goshal
(Net Worth: INR 185 crores)
Shreya is the most famous and highly paid female singer Bollywood industry born in 1984. She has made a massive profile by TV reality shows by judging. She is often considered among the most applauded and versatile singers of her era because of his sweet voice. She has the honour of being called five times in the Forbes list of top 100 Indian celebrities. She is amongst the highest-paid female singers in Bollywood as she has a net worth of INR 185 cr. Shreya is not only a playback singer but a producer, lyricist, music composer, record producer, and philanthropist as well. She is acknowledged as a complete package in the music industry and is considered the wealthiest female singer.
2 – Sunidhi Chauhan
(Net Worth: INR 65 crores)
Sunidhi is another richest female singer of Bollywood and is considered the star of item songs. She was born in 1983 in New Delhi. She dominated the singing industry in early 2000 and established a considerable success with her charming voice. She has been called the Numero Uno singer of her time, and she is capable of setting the stage on fire with her outstanding live performance. She had won the title of the best singer at the reality show "Meri Awaz Suno" in 1996 as she started her singing career from the "Shastra" movie. The quality of her endearing voice made her a top singer in Bollywood and has a net worth of INR 65 cr.
3 – Lata Mangeshkar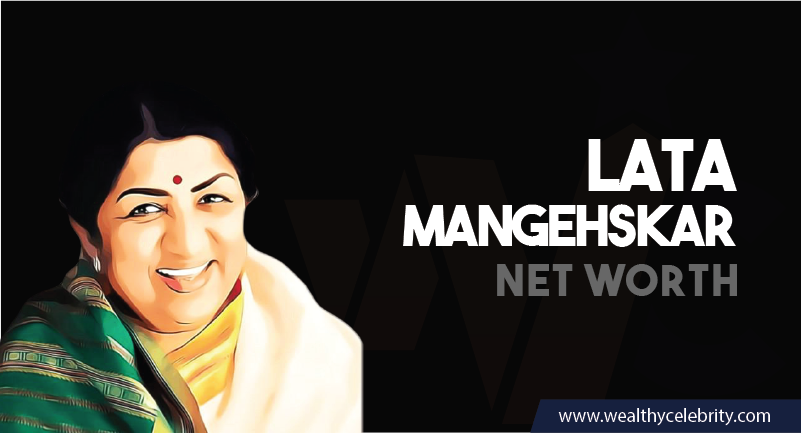 (Net Worth: INR 60 crores)
Lata Mangeshkar is one of the living legend and the best Bollywood singers of all time. She is the best playback singer in Bollywood, and her melodious voice enabled her to win the National Film award three times. She is the only singer from Bollywood who has the honour of performing in the Royal Albert Hall. She served the film industry by performing in more than 1000 films in almost thirty-six regional and foreign languages. She is considered the youngest female singer as she started her career at the young age of five. This legendary singer of Bollywood has a net worth of INR 60 cr.
4 – Alka Yagnik
(Net Worth: INR 52 crores)
Alka is an Indian playback singer and had started singing at the young age of ten years. She has won various film fare awards, and one of her awards belongs to a famous song "Aik do teen". She is a classically trained singer, and she has sung maximum solo songs in Bollywood. Her famous songs were also nominated by BBC among the list of "Top 40 Bollywood Soundtracks of all times". She is the queen of Bollywood singing, and she has also performed as a singing judge in TV reality shows. She is also a wealthy female singer by having a net worth of 52cr as a singer in Bollywood.
5 – K. S. Chitra
(Net Worth: INR 50 crores)
She is another classical payback singer in the Bollywood industry. She is the only female singer in Bollywood who was awarded by the Indian president. Her singing career is tremendous as she has recorded more than 25,000 songs in various languages, including Hindi, Urdu, Arabic, Latin, and English. She has been awarded six National Awards and six Film fare awards in her singing career. She also judged singing TV reality shows in Kerala and awarded the title of best singing Judge. She has recorded her first studio album as Raaga Raaga in 1993 and perceived immense fame accompanied by success in her singing career as this Bollywood singer's net worth is INR 50 cr.
6 – Asha Bhosle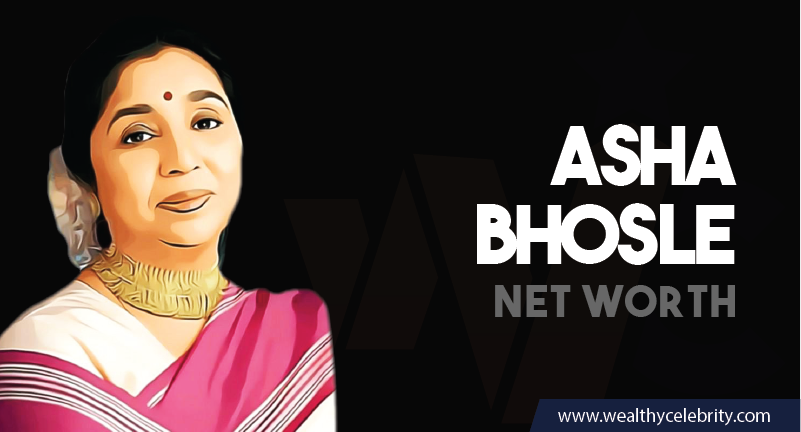 (Net Worth: INR 40 crores)
Asha is the most famous female Bollywood singer born in 1933. She is one of the best playback singers and the youngest sister of Lata Mangeshkar. She is acknowledged by the Guinness Book of World Records for her maximum number of songs recorded in her singing career. She is very versatile in her singing as she has sung songs of all areas including pop music, ghazals, bhajans, qawwali, classical music, and folk songs. She was awarded the Dadasaheb Phalke Award in 2000 and the Padma Vibhushan by the government of India. "Brimful of Asha" was released by a British Rock band "Cornershop" in 1997. She has also become the richest Bollywood singer as she has a net worth of INR 40 cr.
7 – Kavita Krishnamurthy
(Net Worth: INR 30 crores)
Kavita is another famous classical playback singer of Bollywood born in 1958. She has recorded 25,000 songs in sixteen languages including Hindi, Urdu, Marathi, Nepali, Tamil, etc. She has recorded her first song with Lata Mangeshkar as a co-star for a Bengali film. She has a firm grip on Hindustani classical music that enabled her to take her place in the competitive industry. The two most famous songs of her singing career for the film Mr. India proved a turning point for her. She was awarded Maharashtra State Film Award for Best Female Playback Singer in 2000, and she has a net worth of INR 30 cr.
8 – Sadhna Sargam
(Net Worth: INR 25 crores)
Sadhna is a famous female Bollywood singer, especially in the Hindi and Tamil film industry. Her popularity as a playback singer enabled her to get the Lata Mangeshkar award from the government of Madhya Pradesh. She gets her debut from a Gujrati film "Kanku Pagli", and she sang her first song for the film Rustom named by "Door Nai Rehna". She was awarded the Best Female Playback Singer awards in Tamil and Telugu in 2007, and she has also won the Zee Cine award for best female playback singer for "Kuch Na Kaho" in 2004. She has gained popularity and a net worth of INR 25 cr by her versatile singing.
9 – Anuradha Paudwal
(Net Worth: INR 18 crores)
Anuradha, a famous and one of the richest Bollywood singers in playback singing, was born in 1954 as Alka Nadkarni. She made her playback singing debut in the film Abhimaan. She was awarded the fourth-highest civilian award by the Indian government. Anuradha was also awarded by "Mother Teresa Award" for lifetime achievement. Her playback singing skills made her capable of earning success and wealth as she has a net worth of INR 18 cr.
10 – Neha Kakkar
(Net Worth: INR 10 crores)
Neha is the most famous female Bollywood singer nowadays. She started her singing by a reality show Indian Idol 2 in 2006. Her first album named "Neha-The Rockstar" was released in 2008 that made a tremendous success in the Bollywood industry. Her song "London Thumakda" from the movie "Queen" marked her songs as a key ingredient for Bollywood films. The main elements of her singing are pop, hip hop, R&B, and dance numbers. She has won many awards and also performed as a singing judge in "Sa Ray Ga Ma Pa". Neha Kakar has a net worth of INR 10 cr.
Who is your favourite singer among those? Tell us about reviews in the comment section below.