Sergey Mikhaylovich Brin is a big name in the world of the internet and also one of the wealthiest people in the world. He is an Internet entrepreneur and an American software engineer. He is the co-founder of the biggest online search platform, Google, and Sergey Brin's net worth is 107 Billion USD.
He co-founded Google along with Larry Page and was also the president of Google's parent company, Alphabet Inc., till 3rd December 2019. As of 2023, Brin is the 7th Richest person in the world.
Sergey Brin
Wiki/Bio
Complete Name
Sergey Mikhaylovich Brin
Nickname
Sergey
Net Worth:
$107 Billion
Birth:
August 21, 1973
Age:
49 years
Eye Color:
Hazel
Complexion:
White
Country of Origin:
Moscow, Russia
Country Now:
California, US
Love Life:
Married to Nicole Shanahan, Anne Wojcicki (2007-2015)
Parents:
Eugenia Brin (Mother) and Mikhail Brin (Father)
Children:
Chloe Wojin (Daughter), Benji Wojin (Son)
Siblings:
Sam Brin (Brother)
Education:
Bachelor in Computer Science and Mathematics from the University of Maryland, Ph.D. in Computer Science from Stanford University (Drop-off)
Source of Wealth:
Co-founding Google and X, Co-founding Alphabet Inc., Co-creating PageRank
Source of Fame:
Co-founding Google and X, Co-founding Alphabet Inc., Co-creating PageRank
Height:
5 ft. 8 in
Hair Color:
Dark Brown
Weight:
159 Pounds
Birthplace
Moscow, Russian SFSR, Soviet Union
Nationality
American
Occupation
Entrepreneur, Computer Scientist
Zodiac Sign
Leo
Hair Color
Dark Brown
Relationships History
Anne Wojcicki – Entrepreneur (2007-2015)
Nicole Shanahan – Lawyer (2016-Present)
Co-Founded Google
September 4, 1998
First Film
The Internship (2013)
First TV Show
To Tell the Truth (2001)
Distinctive Features
Prominent Nose
Last Updated:
2023
Early Life
The richest Sergey Brin was born in Moscow in the Soviet Union, and his parents were Jewish. His mother, Eugenia worked as a researcher at NASA's Goddard Space Flight Center, and his father, Mikhail Brin was a retired mathematics professor at the University of Maryland; both of them graduated from Moscow State University (MSU).
Brin's family lived in a three-room apartment when they were in central Moscow. In 1979, when Brin was 6 years old, his family immigrated to the United States from the Soviet Union.
Education
Brin studied at the elementary school named Paint Branch Montessori School in Adelphi, Maryland. After studying at home for some years, he got admission to Eleanor Roosevelt High School, Greenbelt, Maryland.
In 1993, he completed his Bachelor's degree in Computer Science and Mathematics following his father's and grandfather's footsteps from the University of Maryland. At that time, he was only 19 years old. His strong interest in Computer Science is the primary reason for the high net worth of Sergey Brin today.
After graduation, he enrolled in a Ph.D. program in Computer Science from Stanford University. At this time of his academic life, he met Page, and both of them worked together in building a web search engine. Their web search engine program became quite popular at Stanford University, and soon they drop off their Ph.D. studies to start working on Google in Susan Wojcicki's garage. Because of founding Google, Larry Page and Sergey Brin's net worth have enlisted them among the top 10 wealthiest people of the world.
Career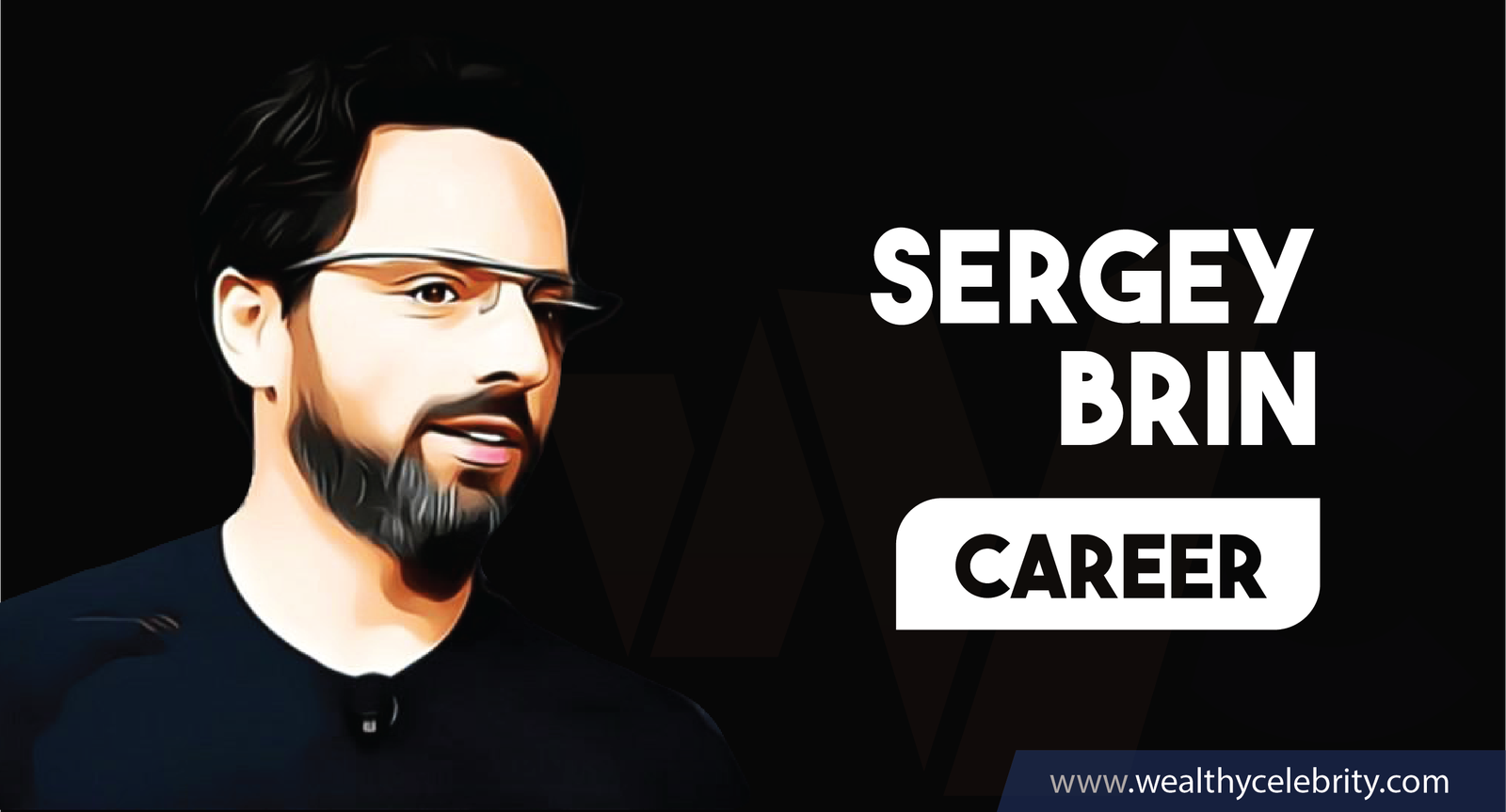 When Brin and Page met, they seemed to disagree on most subjects, but with time their conflicts turned into a close friendship, and they became intellectual soul-mates. Brin and Page developed the PageRank algorithm together and then realized that this algorithm could be used for building a search engine that will be far bigger than the existing ones.
In 1996, they released the initial version of Google on the Stanford website. Brin was also the president of Alphabet Inc., which was the parent company of Google. Brin and Page are still co-founders of Alphabet, board members, controlling shareholders, and employees. The net worth of Google's founder Page is higher than that of Brin because he holds more shares in the company.
Love Life
Sergey Brin married an entrepreneur and biotech analyst Anne Wojcicki in the Bahamas. They have a son and a daughter together. In August 2013, it was announced that Brin and his wife got separated because of Brin's extramarital affair with Amanda Rosenberg, the marketing director of Google Glass. After 2 years, in June 2015, Brin and Wojcicki got divorced.
In the year 2018, Brin married a legal tech founder Nicole Shanahan, and they have a daughter, born in the same year.
Assets
As you saw in our previous article, Norm Macdonald Net Worth, he likes to spend on luxurious items; let's have a look at the assets of Sergey Brin.
After getting the answer, how much is Sergey Brin worth? The next question that might arise in your mind is, where does he spend his money. Let us make it simple for you. In 2008, Brin bought a 3500 square feet penthouse in New York City's West Village worth $8.5 million. This is a 4-bedroom penthouse apartment having a 23-foot balcony and a limestone bath with heated floors.
Along with Larry Page, he co-own Dornier Alpha Jet and a customized Boeing 767-200, having 50 passengers sitting, and two staterooms with connecting bathrooms, showers, and dinner areas. He is also the owner of a large estate in an area of Los Altos Hills, California, that is still not disclosed, and his followers are still wondering where Sergey Brin lives.
In 2011, Brin acquired a 73-meter yacht called Dragonfly and spent $80 million for it. In 2014, Page and Brin built a private airport in San Jose worth $82 million.
Even after the divorce Brin and Wojcicki are running The Brin Wojcicki Foundation jointly. They gave $1 million to support the Hebrew Immigrant Aid Society and also donated extensively to The Michael J. Fox Foundation.
Brin is a donor of Democratic Party organizations and candidates. He denoted $30,800 to the DNC and $5,000 to Barack Obama's reelection campaign.
Highlights
Along with Sergey Brin's net worth, here are some of the amazing highlights of his career.
In November 2009, Forbes declared Brin and Page the Fifth most powerful people in the world.
In 2004, Brin and Page received the American Academy of Achievement's Golden Plate Award at a ceremony that occurred in Chicago, Illinois.
In October 2018, Brin was the 13th-richest person in the world, and the estimated net worth of Sergey Brin back then wasUS$50.5 billion, according to Forbes.
In 2013, Brin gave a cameo appearance in the film The Internship.
Amazing Quotes by Sergey Brin
"We do lots of stuff. The only way you are going to have success is to have lots of failures first." – Sergey Brin
"Obviously everyone wants to be successful, but I want to be looked back on as being very innovative, very trusted and ethical and ultimately making a big difference in the world." – Sergey Brin
"When it's too easy to get money, then you get a lot of noise mixed in with the real innovation and entrepreneurship. Tough times bring out the best parts of Silicon Valley." – Sergey Brin
"Coming up with an idea is the least important part of creating something great. It has to be the right idea and have good taste, but the execution and delivery are what's key." – Sergey Brin
"The kind of environment that we developed Google in, the reason that we were able to develop a search engine, is the web was so open. Once you get too many rules, that will stifle innovation." – Sergey Brin
"We have tried to define precisely what it means to be a force for good – always do the right, ethical thing. Ultimately, 'Don't be evil' seems the easiest way to summarize it." – Sergey Brin
Sergey Brin's Social Media Profiles
Sergey Brin Popularity on Google
A Quick Check into Sergey Brin Profile:
Q: Who is Sergey Brin?
A: Sergey Brin is the co-founder of the internet giant "Google" as he founded the world's largest search engine together with Larry Page. In addition, he is known for being an internet entrepreneur.
Q: What is Sergey Brin's birthplace?
A: Sergey Brin was born in Moscow, Russia.
Q: How old is Sergey Brin?
A: As of 2022, Sergey Brin is 48 years old.
Q: Who is the current wife of Sergey Brin?
A: Nicole Shanahan is his current wife, whom he married in 2018 and with whom he had a daughter.
Q: What is the net worth of Sergey Brin?
A: As of 2022, Sergey Brin's net worth is estimated to be around $67.6 billion.
Q: How rich is Sergey Brin?
A: Currently, Sergey Brin is the 7th richest man on the earth.
Conclusion
Sergey Brin's net worth as of 2023 is 107 Billion USD, and it is all because of co-founding one of the most used search engines in the world, Google. His view and hard work helped him bring a change, and today he is one of the most influential personalities in the world. He had a keen interest in computer science from a young age and an urge to do something big. Here is all you wanted to know about how much does Sergey Brin makes in a year, but if you want to add something else, feel free to comment.