You may have heard of a proverb that "a picture is worth a thousand words." Looking at the Instagram accounts of the WWE superstars will tell you that this proverb is right. From the picture of The Rock posing to hit a fan's truck to the photo of Lana letting her hair down on the beach, you will find thousands of posts that will show the everyday life of these WWE superstars. You will also get to know about many things like how much do WWE wrestlers get paid per match to what is their favorite food.
List of Most Followed WWE Superstars
The WWE Superstars list given below is those whose Instagram account will provide you with a tour of fun, adventure, and inspiration. Let us start our read!
1. The Rock
@therock (Net Worth: $320m)
The Rock is the most famous and the richest wrestler with a net worth of $320m. He is an actor, model, wrestler, and what not! Want to see the most relaxed person on this planet? Just go on the Instagram ID of The Rock. Dwayne' The Rock' Johnson's posts the following types of photos and videos on his account:
Fast cars
Fancy jets
Intense workouts
Moreover, he is on the top of the highest-paid wrestler's list. He has appeared in different blockbuster movies. Apart from all this, The Rock has a Guinness World Record number of selfies. All this is not enough to describe the most favorite person of WWE. His followers are over 191m, and this is a significant number! What an entertaining man he is!
"If I had to describe myself to an alien, I'd say I was bigger than the average human, enjoy a drink or two with a good meal, and have a bigger head than most. I'd also say I'm handsome – especially if they were a female alien."- The Rock
Also read: Expensive Things Dwayne "the Rock" Johnson Owns
2. John Cena
@johncena (Net Worth: $55m)
John Cena's Instagram ID is a platform where you can see different types of pictures every now and then. He not only shares pictures of cartoons but also of other famous personalities as well. John Felix Anthony Cena Jr is one of the biggest stars in the WWE universe. Having won many championships, the dude is famous not only among young guns, but also among adults. Apart from working in WWE, the people's champion has also worked in movies and also was a rapper at one point in time. How much do WWE superstars make? Wrestling, movies, advertisements, and much more are the sources to increase their net worth. WWE wrestlers' salaries are enough to make them able to live luxurious lives. However, this dude never brags about his wealth and riches. His IG account is as simple as it can be.
John Cena is one of the most famous wrestlers, actor, and brand ambassador. His net worth is $55m and is increasing day by day.
Besides this, Cena's account is full of unpredictable fun and adventure. You will find posts related to the:
Cartoons of all sorts
Pictures of superstars from all walks of life across the globe
His account is a platform for too many guilty pleasures. These are the reasons he has 14.4m followers on Instagram which are increasing day by day.
It is pertinent to mention here that Cena doesn't follow anyone on Instagram. Strange, isn't it?
"When people show loyalty to you, you take care of those who are with you."- John Cena
3. Nikki Bella
@thenikkibella (Net Worth: $6m)
Want to see the beauty of WWE, then you must visit the Instagram account of Nikki Bela. Her username is thenikkibella. Bella's account is full of the following types of photos:
Divas Championship photos
Candid moments
Inspirational quotes
Photos of family and friends
Bella is a professional wrestler with $6m net worth. If you want to see an IG account that is very motivational, Nikki's account is a must for you. She has a great deal of fan following that can be confirmed by her 9.4m followers. She believes in working hard and party harder!
"Believing in yourself and having confidence gives you outer strength." Nikki Bella
4. Paul Triple H
@tripleh (Net Worth: $40m)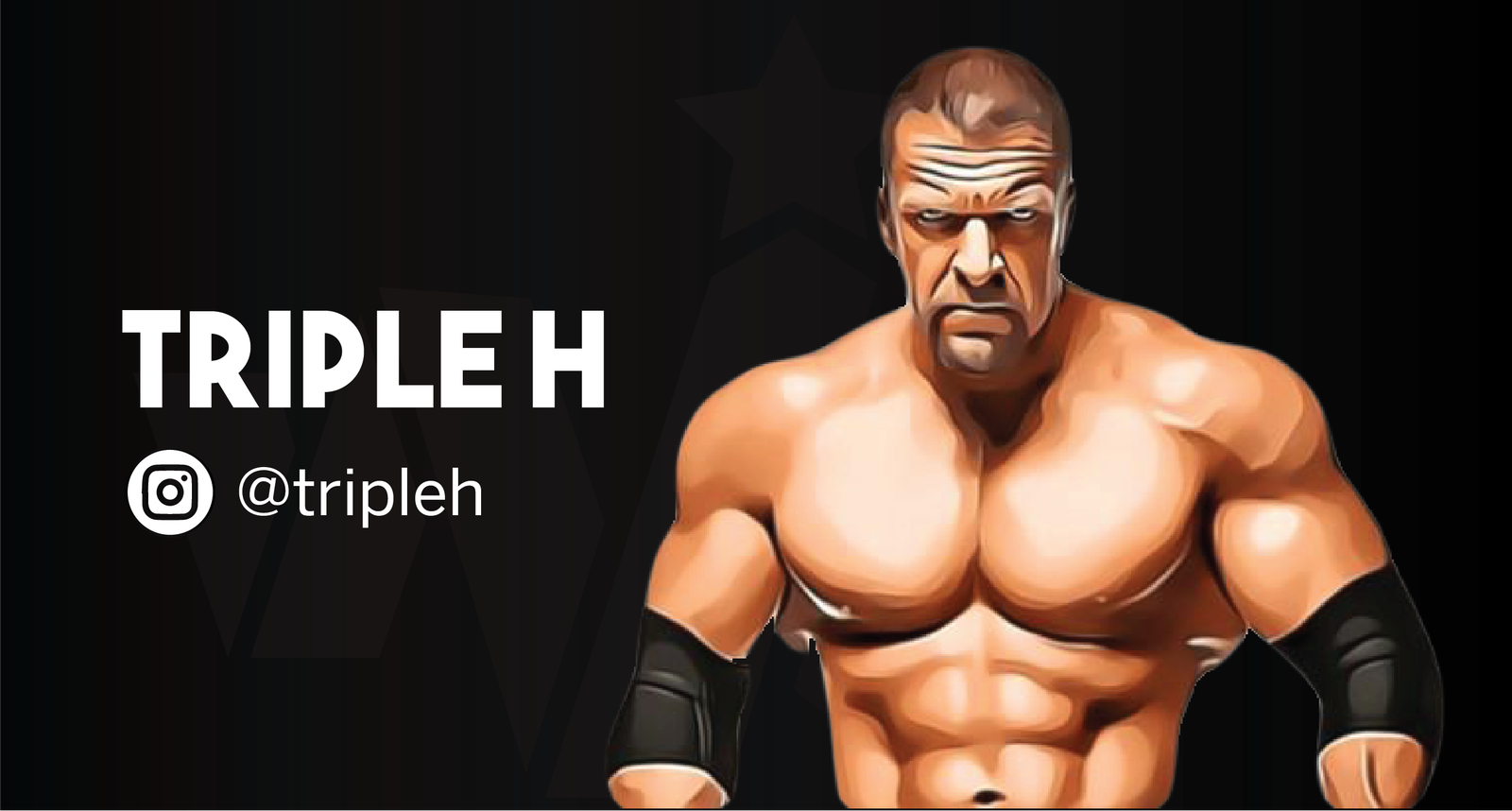 Triple H is so cool. The word 'typical' does not exist in his dictionary. Triple H is far away from any typical executive. WWE COO, Triple H, shows you his duties of the whole day, including:
Magazines photoshoot with his wife
Chief Brand Officer Stephanie McMahon
Candid shots of The Game backstage
Besides, Paul Triple H posts photos with various famous figures. For instance, he posts pictures with Kevin Ownes and Kevin Nash. Nash is his longtime wrestling partner. Moreover, Paul posts pictures of his strict three days diet. While on other days, he shows the pictures of his crazy workout.
Triple-H is one of the famous wrestlers whose net worth is $40m. He also does many business ventures and endorsements.
If you want to know further details about Triple H, who is on the WWE superstars list, then you must visit his account. More than 6 M followers follow his account to see the highlights of their favorite wrestle.
"Your destiny is what you make. It's the choices that you make. And for every choice, there's a consequence."- Triple H.
5. Paige
@realpaigewwe (Net Worth: $3.5m)
Paige's Instagram ID is full of pictures of her house. She is obsessed with her home, so her followers are as well. She is a professional wrestler, and jas a net worth of over $3.5m. There are many reasons for which Paige is very famous on Instagram and has almost 6m followers. Following are the reason which will tell you that following Paige's account is a must:
Shots of her in exotic locations
Her wearing a variety of hats
Her candid photo of kicking the original Green Power Ranger
"I want everyone to know that they can accomplish anything they want at any age if they just be themselves. I want to encourage millions to chase their dreams and never to change. Everyone should also know how to throw a good right hook!"-Paige
6. Randy Orton
@randyorton (Net Worth: $11m)
Who doesn't know about the Viper in WWE? Yes, you guessed it right, I am talking about Randy Orton—the legend killer. His Instagram bio only has three words; Husband, Father and Legend Killer. Orton's Instagram is packed with the pictures of his wife and his family. The guy sure loves his family. Randy Orton has a vibrant, friendly account which shows that superstars can have fun. Randy's ID is full of:
Picture of his family, especially his lovely wife
Snaps of his workout, enjoying on a trip with his family
Randy doesn't post much on Instagram, he only has 292 posts. His IG followers are 5.8m. The famous viper has won many titles in the WWE universe and is one of the most popular WWE wrestlers. His net worth is $11m.
"Call me sick Call me deranged. I am gonna be your worst nightmare. I am gonna be your hero whether you like it or not."-Randy Orton
7. Eva Marie
@natalieevamarie (Net Worth: $2m)
The red-headed bombshell, Eva Marie, has a worth following IG account. Her account's username is natalieevamarie. She posts terrific solos of herself. Besides, Eva also publishes the real struggle one needs to do to become a WWE Diva. Eva is a model, professional actor and wrestler with a net worth of $2m.
Marie is among the people with the most Instagram followers. She has around 4.4 M followers; furthermore, you can find more than 5,870 posts on natalieevamarie. You can find the following types of pictures on Eva's ID:
Modeling photos
Workout shots
Selfies
Marie's journey began in California under the tutelage of The Brian Kendrick. She has also followed more than 1500 people from her ID. You must follow this Diva for inspiration.
"Every day, no matter what, get that workout in, get a sweat in, and sooner or later, you're going to see that progress." Eva Marie
8. Seth Rollins
@wwerollins (Net Worth: $4m)
The username of Seth Rollins Instagram account is 'wwerollins.' Rolling's account has 4.4 M followers. And, the most liked shot on his IG account is from WrestleMania 31, holding his freshly won WWE World Heavyweight Championship with 54.8k likes. His account shows a clear picture of his continuous hard work and struggle. He is among the best wrestlers of the modern era with a net worth of over $4m.
He has posted more than 800 photos, which are worth praising due to his hard work. Seth Rolling is among the top 10 WWE superstars.
You can see his dedication in each picture he has posted so far. Rollin mostly posts two types of pictures on his account:
Running and jogging on the road
Working at a gym
"I am determined and never give up. Ever. I always do my best." Seth Rollins
9. Natalya
@natbynature (Net Worth: $5m)
Natalya's Instagram account has its charm. She has a beautiful username, i.e., natbynature. Every week, WWE.com cherry-picks the best shot among WWE Instagram. And, every week, Natalya has a substantial presence. Diva, Natalya, is among the most famous WWE wrestlers. The account of Hart Dungeon Diva can be categorized into four beautiful classes:
Stunning selfies
Fan photos
Candid photos with Superstars and Divas
Photos of her cats
She has more than 4.2 m followers. Moreover, her beautiful Instagram's ID has more than 12k (beautiful, charming, and cool) posts. She is among those IG users who follow many people. This Diva has a net worth of more than $5m.
"Only a hand full of women on the planet can do what we do."- Natalya.
10. Lana
@thelanawwe (Net Worth: $2m)
"I am superwoman" is the fantastic tagline you will always see on thelanawwe account. This tagline also shows Lana's facto mission, which she is trying to capture with all those pictures. If there would be another person except for Lana, then (s)he would have given up on Instagram much earlier, but Lana is a superwoman who has the most follower on Instagram.
Lana, the superwoman, has a net worth of $2m. Her net worth and popularity are increasing day by day. Her candidness and Instagram savvy tell a motivating story of turning an Eastern European ex-pat into a 21st-century Diva. Lana mostly posts one type of pictures on her account:
Her pictures in different clothes
Lana has 3.7m followers and more than 2k posts. Lana's followers have witnessed in every post that she was, and is still the strongest woman.
"We went through this month camp, learning how to bump and hit the ropes. I just fell in love with WWE and sports entertainment." -Lana
Checkout the list of top 10 most followed WWE wrestlers on Instagram
Most Followed Wrestlers on Instagram List Updated in 2022.
Who is your favorite WWE Superstar? Whose Instagram did you like the most? Tell us about your favorite star in the comments section.