Makeup is something that adds more confidence to your daily appearance. It can transform your whole look into a brand-new version of yourself. And the best thing about this face art is no one knows what you are hiding beneath it. Following that, in today's post, we will share some incredible makeup transformations which will prove that every woman on this wide planet can look like a celebrity.
25 Best Makeup Transformations Created So Far (Easiest to Hardest):
Below we have compiled the 25 best makeup transformations. Take a look:
#1: See How Goar Avetisyan Transformed Her Model Into A Goddess
Goar Avetisyan is a well-known American makeup artist, model, and Instagram star – who is known for how she transforms her models' regular faces into a complete wow-worthy version. Look at the picture we have attached below to get an idea of her talent.
#2: In This Transformation, The Artist Turned An Oldie Into A Mid-Aged Woman
Here is a picture of an aged woman who looks quite like a Hollywood actress with the makeup she is wearing. The artist chose light, bright colors on her face, making it a bit undertoned yet eye-catching at the same time.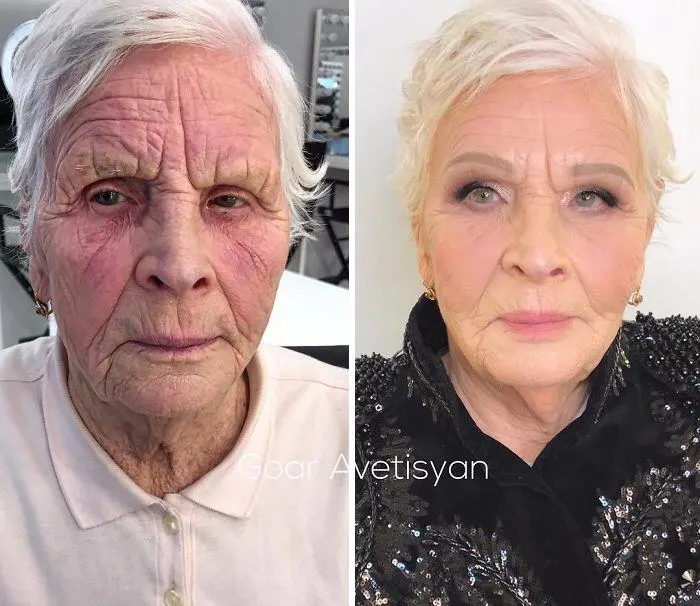 #3: Mainly Covering Her Eye Area, The Makeup Artist Transformed Her Dull Peek Into Go-To Makeup Look
Here, the makeup artist has covered all the spots from her model's face (Which were probably the main reason behind her dull look) using medium-toned foundation and concealers. Have a look:
#4: Look How The Artist Transformed This Woman With A Use Cosmetic Wig And A Bit Makeup
This transformation will surely bring back the trend of wearing cosmetic wigs wherever you go, as the makeup on the model is done while staying under a limit, and to enhance her beauty, the stylist simply attached a wig, which is looking GORGEOUS!
#5: Here Comes The Kardashian-Inspired Makeup Transformation Look
After looking at this imposing makeup transformation, many people noticed how much it resembles the Kardashian family – especially the eyes.
#6: Look How Amazingly The Artist Added Dark Feminine Energy To Her Model
In this look, the makeup professional added dark feminine energy to a light-faced model using maroon-shaded lipstick, gloss, and dark eye shadows.
#7: This Makeup Artist Hid All The Vitiligo From Her Model's Face Using Foundation Only
Turning Vitiligo into a one-colored face wasn't hard for this artist, who turned her model into a complete diva using the magic of foundations. Have a look below and discover how stunning she looks:
#8: Another Model With Alopecia Turned Into A Real Beauty By Her Makeup Artist
Alopecia usually gives its survivors no choice, but with these talented beauty artists, this disease might stand no longer. Here's a picture of a model going through the same situation while looking for real beauty with makeup.
#9: Some People May Not Agree, But This Model Really Rocked With Her Dark Eye Shadows
After checking the comments, we discovered people were hating on the makeup artist for putting too many eye shadows. But her eye shades and the dark contour to put her jaw together are mainly the things making her look more imposing and eye-catching.
#10: This How The Magic Of Cat Eyes Can Reflect Your Whole Look
In this look, the makeup artist simply used the Cat Eyes look on her model's face with a bit of foundation to enhance her other face details. Check it out:
#11: Foundation Is A Real Game Changer! Here's The Proof
Here's proof of how a foundation can be a day saver. This look represents the idea of covering up your troubled sides with a nice foundation to go anywhere on the go!
#12: No Fine Lines, No Wrinkles! This Look Can Make Everyone Believe This Is Her Real Face
The makeup artist elevated an unattractive face to a brand-new level of beauty using high-coverage products only. This is how the model looks (before and after).
#13: The Artist Defined Her Beauty! Look How Stunning She Looks
Sometimes, a face with scars or uneven tone needs some detailing. And the artist who transformed this model just did the same. By applying high-quality foundation and defining her beauty, she looks nothing but gorgeous.
#14: Check Out This Highlighted Transformation By Goar
This look represents the art of concealing all the troubled sides on the go by using brains. The artist just added highlight effects and lots of effort covering her face, and now she is making the American audience amazed.
#15: When They Say "Dark Circle Coverage," This Is What They Want
In this look, the professional artist settled down the extremely dark circle and fine lines from the model's face using the magic of lots of concealers and foundations. In addition to that, she used pure red on her lips to make her face more highlighted and better than before.
#16: This Woman Is Effortlessly Thriving In This Medium-Toned Look
You're beautiful, no matter how you look. But if something can make you confident, you should just go for it. And we guess in this look the model chose the detailing by herself:
#17: This Look Will Give The "Actual" Chill Vibes
The before and after of this look give us "Real" chills. Just take a look at how amazingly the artist lifted her model's downward face into a whole lifter with makeup!
#18: The Artist Made Her 10 Years Younger With The Use Of Makeup Only
This is indeed an extraordinary transformation that might take most people by shock. Take a look at it and share it with the people who you might think would love to discover!
#19: Looking For A Full Coverage Look? Check This Out:
This is what you can call a "Complete Coverage Look." Here the artist has covered all the burnet sides with the foundation. And for the other downside, she used to contour, blush, and a bit of highlighter, which made her face look flawless and unmistakable.
#20: This Look Will Surely Make You A Makeup Person
We know you are not a makeup person, but after looking at this lady, we are sure you would love to become one. Not only this, you will learn that just "Smiling" can be way prettier than you imagine. Take a look:
#21: See How A Chemo Patient Is Looking Stunningly Beautiful With Her Makeup On
She is a Chemo patient who looked stunningly beautiful after getting makeup over from Goar Avetisyan. Moreover, according to the audience, her transformation into the renowned model – Kim Kardashian.
#22: Here Comes One Of The Hardest Makeup Transformations
Here comes one of the hardest makeup transformations from the list, where the artist covered a quite tough eye-troubled area with makeup. Take a look:
#23: This Makeup Artist Made Her Look At least 10 years younger
The most ideal way to describe this model has to be titled "Beautiful And Brave." She chose perfection over sobering. And this is what makes her perfect.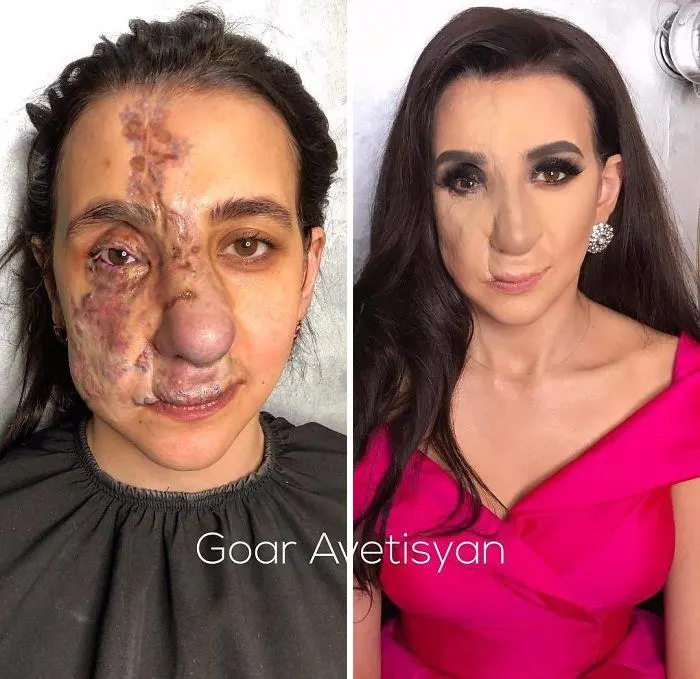 #24: Gorgeous. She looks like a TV anchor!
The artist who handled her natural beauty while enhancing her inner attractiveness must be a goddess herself. Yes, we are talking about the same artist – Goar Avetisyan. Take a look at how detailed her work is: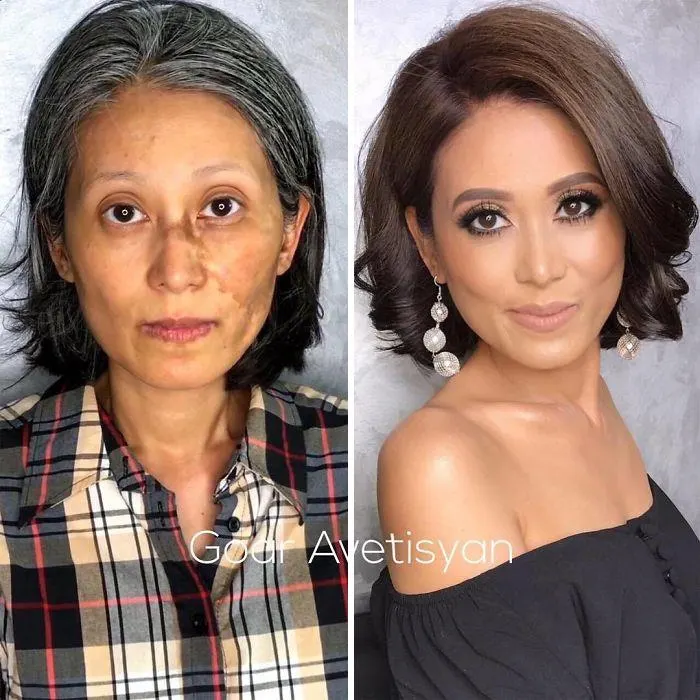 #25: While Keeping Her Different Colored Eyes, The Artist Made Her More Beautiful
Here comes the most artistry work from Goar. In this look, she let the model's different colored eyes the same way, making her look attractive and imposing.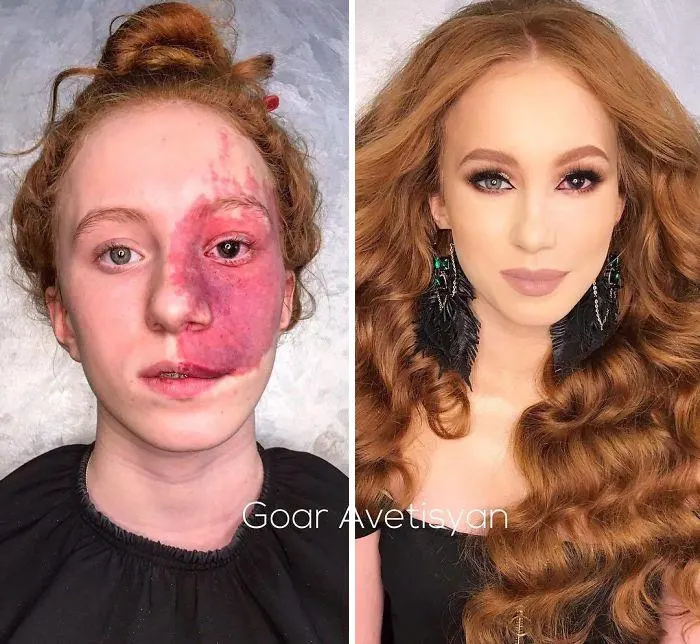 Summing Up!
So these were the 25 best transformations that professional artists made using makeup. We listed them accordingly (easiest to hardest). We hope that you enjoyed reading this article!
What's your take on these incredible makeup transformations that can turn anyone into a celebrity? Let us know in the comments below.