Who is Goth Egg?
Goth Egg (Real name Leah) first busted onto the scene with a viral TikTok post on 5/20/21 entitled "Ever seen a 4'10" girl with DDD's?" The post received 4.4 million views. She is a Tik Tok celebrity, adult film actress, and OnlyFans creator who was born in Pennsylvania but currently resides in Sacramento, California.
This internet celebrity is very secretive about her family life and will never reveal any of that information online (as she has stated in one of her YouTube videos).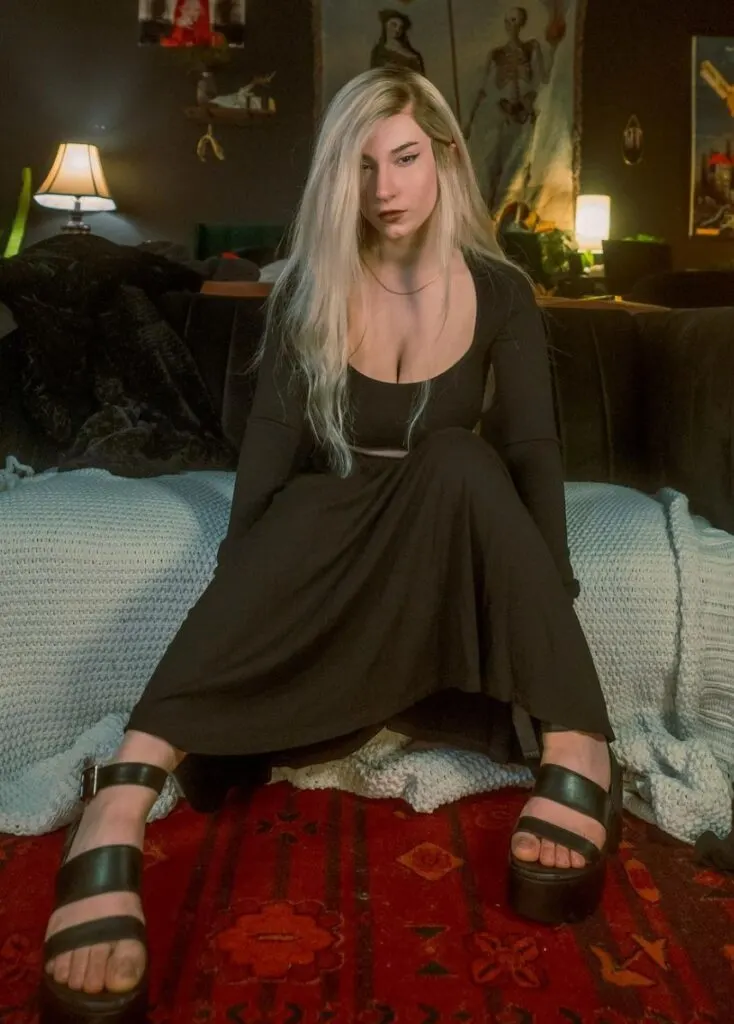 Where can I find her online?
Goth Egg is all over social media with accounts on Tik Tok, Instagram, Twitter, and OnlyFans. She can even be found on some suggestive content websites on Google under the moniker "Big Ti—y Goth Egg."
She loves to post shorts of her two pet cats, outfits accentuating her voluptuous curves, and humorous videos depicting "short girl problems" or issues that girls with big bosoms run into every day.
Her OnlyFans account periodically has specials such as $5 for 1 month (regularly priced at $9.99/month.
She is also offering the following subscription bundles:
• 3 months (25% off) for $22.48
• 6 months (40% off) for $35.96
| Social Media Platform | Handle | Followers |
| --- | --- | --- |
| Instagram | @goth_egg | 943,000 |
| Twitter | @bigtittygothegg | 557,000 |
| TikTok | @goth.egg | 3,100,000 |
| OnlyFans | @bigtittygothegg | Undisclosed |
How tall is Goth Egg?
Goth Egg is a petite 4 ft. 10 in. (147cm)
The following Tik Tok short is her most popular with over 20 million views!
How old is Goth Egg?
Goth Egg is currently 23 years old.
What is Goth Egg's net worth?
Her net worth is estimated at $200,000 to $300,000 but this number is not confirmed anywhere in any recent interviews or podcasts with Goth Egg. She has various streams of income ranging from sponsorships, brand deals, online merch, and her OnlyFans subscriber base.
| Goth Egg | Wiki/Bio |
| --- | --- |
| Real Name | Leah |
| Known As | Goth Egg |
| Age | 23 years |
| Height | 4 ft. 10 in. (147cm) |
| Weight | 125 pounds (57kg) |
| Hair Color | Blonde (but is frequently dyed various colors) |
| Eye Color | Dark brown |
| Zodiac Sign | Aries |
| Nationality | American |
| Ethnicity | Caucasian |
| Religion | Undisclosed |
| Father | Undisclosed |
| Mother | Undisclosed |
| Siblings | Undisclosed |
| Last Updated | 2023 |
Interesting facts about Goth Egg
1. She is bisexual but has only been in two prior relationships which lasted over a year.

2. She is a 'solo' artist and does not produce OF content with other people. She refuses to sleep with total strangers because it is out of her comfort zone. (Sourced from a Q&A on her Instagram stories)

3. She does not use online dating apps to find partners.

4. She has an online merch site where she sells caricatures of herself and her cats on clothing, stickers, plushies, and phone cases ranging in price from $5 to $65.

5. She is an avid artist and has a separate Instagram account dedicated to her artwork (@persei.69).

6. She has two humongous cats named Eggroll and Napkin and has a separate Instagram account dedicated to her cats (@eggroll_napkin).

7. Her inspiration for creating online content was being a broke college student working at Target trying to find other ways to earn income (Sourced from a Q&A on her Instagram stories)

8. When asked how she stays positive, she responded 1. Weed 2. Frozen pizza 3. Memes (Sourced from a Q&A on her Instagram stories)
View this post on Instagram
In Conclusion
Her distinctive petite body, voluptuous curves, and willingness to openly engage with her fan base with Q&A sessions set Goth Egg apart from other online creators. It's quite obvious from reviewing her social media that her often sarcastic and witty banter between her and her fan base is one of the many reasons she is adored.
Check her out and let us know what you think.