Sonya Curry is an American educator who rose to stardom for being the mother of living basketball legend Stephen Curry, 2-time NBA MVP, and 4-time NBA Champion. She is a former volleyball player and ex-wife of former NBA player, Dell Curry. Sonya has two other children with Dell; Seth Curry, also an NBA player, and Sydel Curry.
| Net Worth | $6 Million |
| --- | --- |
| Occupation | Educator |
| Age | 57 years |
| Source of Wealth | Career and affiliation with the Curry family |
Below we will review Sonya Curry's net worth, love life, and professional life.
A Sneak Peek At Sonya Curry's Bio:
| Sonya Curry | Wiki/Bio |
| --- | --- |
| Birthname | Sonya Alicia Adams |
| Known as | Sonya Curry |
| Date of birth | May 30, 1966 |
| Age | 57 years |
| Birthplace | Radford Virginia |
| Famous As | Celebrity parent |
| Education | Virginia Tech University |
| Zodiac sign | Gemini |
| Nationality | American |
| Ethnicity | Caucasian, African-American Creole and Haitian |
| Religion | Christian |
| Father's name | Cleives |
| Mother's name | Candy |
| Siblings | Clive Adams, India Adams |
Sonya Curry Was A Volleyball Player In Her High School
Sonya Curry was born in Radford, Virginia, on May 30, 1966, to Cleive and Candy Adams. Her maiden name is Sonya Alicia Adams, and as a child, she faced extreme poverty and often had racist experiences with bullies in her high school.
She attended a local high school near her hometown and decided to take part in the volleyball club. And according to her classmate's statements, their Volleyball club was quite popular in the institute because of Sonya. Sonya later went on to play Volleyball at Virginia Tech where she earned all-conference honors her junior year.
She Met Del Curry At Virginia Tech
Sonya and Dell Curry met at Virginia Tech when she was visiting as a recruit and caught the attention of Dell while she was watching men's basketball from the backside of the court. Dell was a junior and Sonya was a freshman when they started dating.
Dell Asked Her Out The Same Year
Even from the beginning, Sonya was inseparable from Dell and was known to attend all his basketball games. After they married in 1988, they would stay a tight-knit family and travel together frequently to attend their kids' games.
The couple stayed together for 33 years and had three children together – two of which have produced four grandchildren. Sadly, the marriage ended due to allegations made by Dell and Sonya that they were each unfaithful.
The Curry Clan
| Curry Kids and Spouses | Year Born |
| --- | --- |
| Wardell Stephen Curry Jr. married to Ayesha Curry | 1988 |
| Seth Curry married to Callie Rivers | 1990 |
| Sydel Curry married to Damion Lee | 1994 |
| Curry Grandkids | Year Born |
| --- | --- |
| Riley Curry | 2012 |
| Ryan Curry | 2015 |
| Carter Curry | 2018 |
| Canon Curry | 2018 |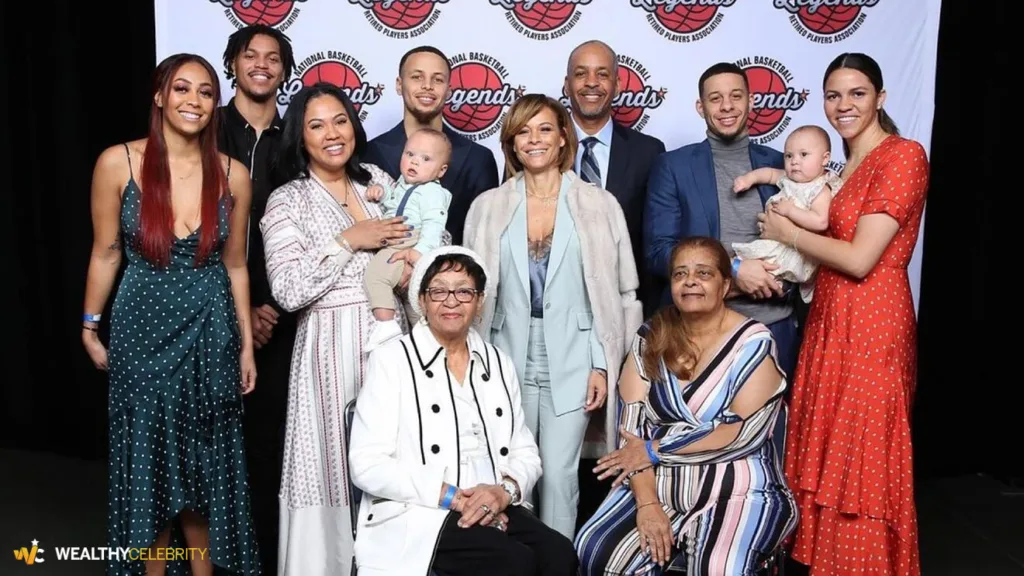 Divorce Insights (What Happened Exactly?)
Sonya filed for divorce in early 2021 after a year-long trial separation with Dell Curry. At first, they tried to keep it behind the curtains, but by the time they officially got divorced, an insider revealed this news and it made headlines internationally. Both Dell and Sonya allege the other of having affairs during their marriage.
She Currently Runs The Christian Montessori School of Lake Norman
After working at multiple institutions as an administrator, Sonya founded the Christian Montessori School of Lake Norman in Huntersville, North Carolina, where she currently serves as President. All of Sonya's children attended this school. Sonya Curry's net worth from her career and affiliation with the Curry family is around $6 million.
Sonya Curry As A Dedicated Mother And Philanthropist
Sonya has been a dedicated mother throughout her children's basketball careers. She and her husband Dell have been instrumental in their development as basketball players and as individuals. Sonya is known for her unwavering support for her children and has been a constant presence at their games, both in college and in the NBA.
Sonya has also been involved in various philanthropic efforts throughout her life. She and her husband founded the Stephen and Ayesha Curry Family Foundation, which is dedicated to improving the lives of children in need. The foundation focuses on education, health, and wellness and has helped many children in need.
5 Interesting Facts To Know About Her Life:
1- When Sonya discovered she is pregnant with Dell's child – Stephen, she wanted to abort the baby but later decided to keep him after discussing it with Dell and they both realized they showed mutual interest in keeping him.
2- She is active on Instagram and has over 240k followers.
3- She is also an author who wrote the highly-rated memoir – Fierce Love (released in March 2022).
4- It is rumored that she will be soon exchanging wedding vows with Dell's friend from Virginia Tech, Steven Johnson.
5- In May of 2019, both of her sons' teams faced off against each other in the NBA Western Conference Finals (the first time this has ever happened in NBA history). To be supportive of both Seth Curry's Portland Trailblazers and Stephen Curry's Golden State Warriors, Dell and Sonya each took turns wearing their sons' team jerseys to each game they attended.
Frequently Asked Questions
Who is Sonya Curry dating?
Sonya Curry is currently dating one of Dell's friends from Virginia Tech named Steven Johnson.
Why did Sonya Curry file for divorce?
Both Sonya and Dell alleged that they cheated on one another. After a year long trial separation, Sonya decided to file for divorce in 2021.
Are Sonya and Dell back together?
No, Sonya and Dell aren't together anymore.
What does Sonya Curry do for a living?
Sonya is a school administrator, and President of the Christian Montessori school of Lake Norman in Huntersville, North Carolina.
Final Thoughts
Sonya Curry is an extremely dedicated mother and spouse who has garnered much fame because of her children who are massively famous in the NBA. Sonya was an avid volleyball player both in high school and college who married former NBA player Dell Curry and raised incredibly talented children in their 33-year marriage. We wish the best for Sonya and her children and several more NBA Championships in the future.
What are your thoughts on Sonya Curry and her character? Do you know something we don't regard her relationship with Dell? Stick your comments below.