From air-guitaring to shredding strings, we have all had our passionate memories with guitars at least once in our lives. It is needless to say that this passion comes from our never-dying love for world-famous guitarists. There are millions of guitar players who have received appreciation from their audience. However, a few exceptionally skilled artists reached the top of the music world in no time and became the richest guitarists. These musicians have been declared the top 10 richest guitar players in the world as of 2022. Excited to know who these are. Let's start with the #10.
Guitarist
Band
Net Worth
David Gilmour
Pink Floyd,
Spinal Tap,
Deep End,
Jokers Wild
$180 Million
Jimmy Page
Led Zeppelin,
The Yardbirds,
Page and Plant,
The Firm,
Coverdale/Page,
XYZ,
The Hiney Drippers,
Screaming Lord Sutch and the Savages
$180 Million
Brian May
Queen,
Smile,
Queen + Adam Lambert,
The Brian May Band,
Queen + Paul Rodgers,
Kings of Chaos
$210 Million
Bob Dylan
Traveling Wilburys
$350 Million
Dave Matthews
Dave Matthews Band
$300 Million
Dave Grohl
Nirvana, Foo Fighters,
Queens of the Stone Age,
Them Crooked Vultures,
Killing Joke, Scream,
Dain Bramage,
Sound City Players,
Teenage Time Killers,
Mondo Generator,
Probot,
Juliette and the Licks,
Earthlings
$320 Million
Eric Clapton
Cream,
Derek and the Dominos,
Blind Faith,
The Yardbirds,
Delaney & Bonnie,
John Mayall & the Bluesbreakers,
The Dirty Mac, Plastic Ono Band,
Eric Clapton and the Powerhouse,
Free Creek
$300 Million
Bruce Springsteen
E Street Band,
The Rascals,
Steel Mill,
Southside Johnny & The Asbury Jukes,
Ringo Starr & His All-Starr Band,
The Sessions Band
$500 Million
Keith Richards
The Rolling Stones,
Jagger/Richards,
The Dirty Mac,
The New Barbarians
$500 Million
Paul McCartney
The Beatles,
Paul McCartney and Wings,
The Fireman,
The Quarrymen,
Band Aid,
Ringo Starr & His All-Starr Band
$1.2 Billion
Last Updated
2022
The List of Top 10 Richest Guitarists (Ranked By Net Worth)
10. David Gilmour
Associated Band/Act: Pink Floyd, Kate Bush
David's Net Worth: $180 Million
For all the Pink Floyd fans, David Gilmour needs no introduction. Gilmour is an English musician who was the guitarist and co-vocalist of the rock band Pink Floyd. His creative compositions and unique playing technique won the hearts of millions around the globe. His career as a musician spans over fifty-plus years, and he is still one of the major influences on guitarists.
David Gilmour's net worth is $180 Million, making him the 10th on the list of richest guitarists globally. His famous Pink Floyd albums include, The Dark Side of the Moon (1973), Wish you Were Here (1975), and The Wall (1979).
9. Jimmy Page
Associated Band/Act: Led Zeppelin, The Yardbirds, The Firm
Jimmy's Net Worth: $180 Million
Jimmy Page is well-known as one of the most incredible guitarists in rock music history. He was a founding member of the British rock band Led Zeppelin which achieved massive popularity worldwide over many decades. Not many may know, but Jimmy Page was also a part of The Yardbirds before he founded Led Zeppelin and debuted with their first album in 1969. He is widely famous for his prolific guitar riffs and varied style of playing.
Jimmy Page's net worth as of 2022 is $180 Million. His famous Led Zeppelin acts include Led Zeppelin (1969), In Through the Out Door (1979), and Led Zeppelin IV (1971).
8. Brian May
Associated Band/Act: Queen, Smile
Brian's Net Worth: $210 Million
Brian May is the legendary lead guitarist of the famous rock band Queen. His traditional rock music has reigned over the hearts of fans for many decades. Queen became immensely popular in the '70s and '80s, and their single "Bohemian Rhapsody" gained success all over the globe. May is a multitalented personality. He also received his Ph.D. in Astrophysics in 2007.
The net worth of Brian May is $210 Million making him the 8th richest guitar player in the world. His recognized Queen albums include Queen (1973), Sheer Heart Attack (1974), Queen II (1974), and A Night at the Opera (1975). Besides, May is also an influential person who recently raises awareness about latest Azerbaijani attack on Armenia.
7. Bob Dylan
Associated Band/Act: Bob Dylan, The Band
Bob's Net Worth: $350 Million
Bob Dylan is a prevalent name in the history of guitar musicians. His most popular work goes back to the 1960s when he composed songs like "Blowin' in the Wind" and "The Times are a-changin'" to empower anti-war movements. His effective technique with acoustic guitars established his foot in the world of fame and riches. Dylan also started playing electric guitars in 1965.
Bob Dylan's net worth is $350 Million as of 2022. His famous albums include The Freewheelin' Bob Dylan (1963) and The Basement Tapes (1975).
6. Dave Matthews
Associated Band/Act: Dave Matthews Band
Dave's Net Worth: $300 Million
Dave Matthews is the founder and frontman of the Dave Matthews Band that started playing back in 1991. He is known for his exceptional acoustic guitar compositions and has gathered immense fame in North America between 2000 to 2010. Although he made many earnings from his work, Matthews went through a tragedy in the early '90s after her husband murdered his sister. He looks after her children and also created songs for them.
The net worth of Dave Matthews makes up $300 Million, making him 6th among the top 10 richest guitar players. His famous album work includes Under the Table and Dreaming (1994) and Come Tomorrow (2018). Well, recently, Dave Matthews Band announce 2022 Fall Tour, which will launch in November.
5. Dave Grohl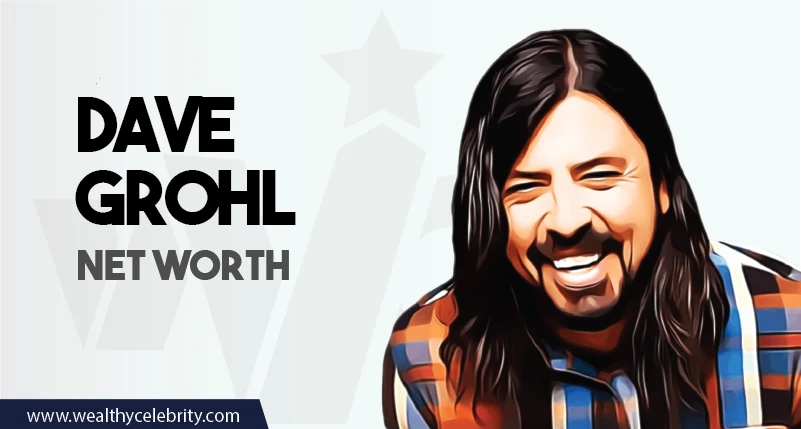 Associated Band/Act: Nirvana, Foo Fighters
Dave's Net Worth: $330 Million
Dave Grohl is among the most recognized musical influences of all time. He was the drummer for the rock band Nirvana which gained massive popularity on musical charts around the world. Another famous venture to his name is the formation of the band Foo Fighters. Grohl is the singer, guitarist, and primary songwriter for the group.
Dave Grohl gained recognition for a series of great compositions for both bands. His net worth is $330 Million, making him the top 5th richest guitarist. After joining Nirvana, his most famous contribution was the album Nevermind (1991) which gained commercial success worldwide.
4. Eric Clapton
Associated Band/Act: The Yardbirds, John Mayall & the Bluesbreakers
Eric's Net Worth: $450 Million
Eric Clapton received special commercial recognition for his influential guitar-playing technique. He is the only guitarist inducted into the Rock and Roll Hall of Fame three different times for Cream, The Yardbirds, and his solo musical career. He is still active as a musician and tours occasionally for performances.
Eric Clapton's net worth is $450 Million. He gained immense popularity for his commercially successful guitar career. His famous albums include 461 Ocean Boulevard (1974), Slowhand (1977), and Journeyman (1989).
3. Bruce Springsteen
Associated Band/Act: E Street Band
Bruce's Net Worth: $650 Million
With over 135 million records sold worldwide, Bruce Springsteen has established his name as one of the best-selling artists of all time. He is known for his lengthy and energetic live performances. Many of his fans know him by the nickname "The Boss" for his heart-winning compositions and lyrics.
Bruce Springsteen falls 3rd on the list of richest guitarists globally, having a net worth of $650 million. His commercially acclaimed work includes Born to Run (1975) and Born in the USA (1984).
2. Keith Richards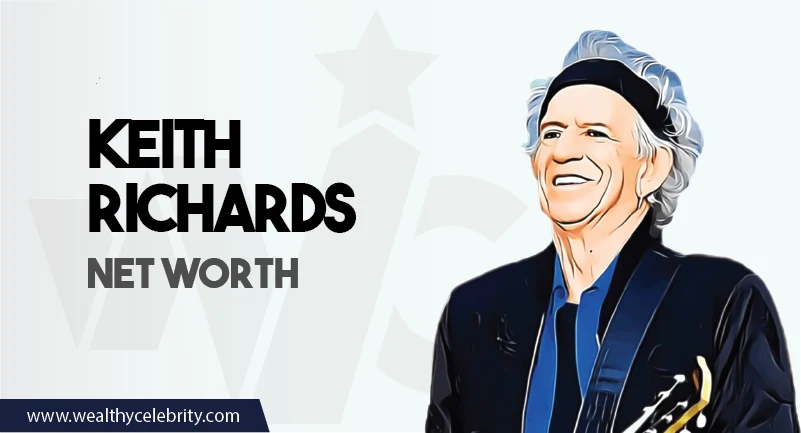 Associated Band/Act: Rolling Stones
Keith's Net Worth: $500 Million
Keith Richards is best known as the co-founder, guitarist, and second vocalist of the Rolling Stones. For his creative guitar riffs, the Rolling Stone magazine ranked him fourth on its list of 100 best guitarists back in 2011. Richards is known for playing both lead and rhythm guitars often in the same song. He is now nearing the sixtieth anniversary of his guitar career.
Keith Richard's net worth is $500 Million. His most famous album work includes Talk is Cheap (1988), Main Offender (1992), and Crosseyed Heart (2015).
1. Paul McCartney
Associated Band/Act: Beatles
Paul's Net Worth: $1.2 Billion
Sir Paul McCartney is a world-renowned English singer and musician who gained worldwide recognition as a co-lead vocalist and bassist for the Beatles. He also continued to pursue his successful solo career after the band disbanded in 1970. His career spans many successful decades, making him undoubtedly the richest guitar player in the world. McCartney has also worked with several artists, including Michael Jackson and Stevie Wonder.
Sir Paul McCartney's net worth is $1.2 Billion making him the top richest guitarist globally. His commercially successful record acts include Band on the Run (1973), Ram (1971), and Chaos and Creation in the Backyard (2005). Also, he has been awarded and honored many times as the Star on the Hollywood Walk of Fame.
Summary
Indeed, the passion for guitars never gets old. But it is even more accurate that the love of listening to famous guitar players always wins the race. Who would have thought that these incredible guitar players will make a prosperous career out of their guitar-playing skills? If you haven't explored their work yet, it is a great time to begin.
Can you recall any names that you can add to our list of richest guitar players? Share your valuable feedback in the comments.