It is always said that sports play an imperative role in the lives of people as they keep them fit and active. However, there are some sports that besides keeping fit are referred to as deadly sports and come along with a high death toll. One such sport is NASCAR stock racing. Although it is a lucrative sport that is enjoyed by many people around the globe, it poses a significant danger to human life. However, if appropriately organized with efficient training of the drivers, the sport provides an amazing gaming experience and safety of life.
Not just only training but also the right use of resources can decrease the death ratio in the game. The hiring of professional trainers and coaches can guide new drivers and train them to perform better. This not only improves the sport but also helps in the generation of revenues as the drivers have extra money to spend apart from their salaries.
Following is the list of the most affluent NASCAR drivers who have earned significant revenue and are still enjoying that.
NASCAR's Top 10 Richest Drivers Of All Time
1. Kyle Busch
(Total earning 2022: $17.8 million)
One of the wealthiest NASCAR drivers is Kyle Busch with a total earning of $17.8 million. Both the Busch brothers are into the same sport, but Kyle's luck has always been a great source of his success. Starting his career from an early age, Kyle, at the age of 19, became the youngest driver to win the title. Following this, he has won 56 wins in NASCAR Cup, 209 wins in a career, and 675 top ten wins. As a result of such success, he owns a net worth of $80 million.
Apart from being the winner of the 2019 NASCAR Cup series, Kyle has made appearances in several shows; such as he appeared in the WWE's Monday Night Raw Program and becoming the winner of the "24/7" championship, losing the belt later the same night. Apart from that, Kyle and his wife, Samantha, made an appearance in the CMT's Racing Wives Reality show. The richest NASCAR owner has also launched his energy booster drink and recently joined RCR for 2023, ending his tenure with Joe Gibbs Racing.
2. Jimmie Johnson
(Total earning 2022: $17.6 million)
While addressing the question of who is the richest NASCAR driver, the name of Jimmie Johnson cannot be left behind. The success that has recognized Jimmie as the richest driver of all times did not come an easy way. Fulfilling his childhood passion for racing, Jimmie started participating in road-off racing series after school and won several achievements and awards.
Johnson has a 20 years long driving career with 83 victories, 336 extra top-ten, and 228 top-five finishes. Although the player has announced his retirement by the year 2020 after the end of his contract with Hendrick Motorsports, he started his 2020 season with a 95-race winless streak, a benchmark of his career. His next win of the Cup series will be a tie with Darrell Waltrip and Bobby Allison for the fourth time in history.
Apart from his career, he made several appearances in shows, videos, and movies earning him a net worth of $120 million and total earnings of $17.6 million. He is also one of the recognized philanthropists working in collaboration with several other charity clubs and organizations such as the American Red Cross and Habitat for Humanity to help needy people.
3. Denny Hamlin
(Total Earning 2022: $14.6 million)
This NASCAR owner's net worth is $45 million with a total earning of $14.6 million. Hamlin, who is a season-ticket holder for MJ's Charlotte Hornets, finished the season in fourth place. Denny has achieved 44 wins, including the Daytona 500 for the years 2016, 2019, 2020, and the Southern 500 for the years 2010, and 2017 in 14 full seasons. He has also qualified for the NASCAR Playoffs in 2019 for the twelfth time. Moreover, Denny came runner-up to Jimmie Johnson in the 2010 championship standings. Hamlin has accomplished 17 career NASCAR Xfinity Series wins and two career NASCAR Gander RV & Outdoors Truck Series victories. And recently, Denny Hamlin was listed as the favorite to win the Bristol night race.
4. Kevin Harvick
(Total Earning 2022: $12.2 million)
The names list of legendary NASCAR drivers includes Kevin Harvick. The richest NASCAR driver's net worth is around $90 million with a total earning of $12.2 million. He works as a full-time driver of the No. 4 Stewart-Haas Racing Ford in the NASCAR Cup Series. His success story includes 58 career wins at NASCAR's top level along with victories in the Daytona 500, Coca-Cola 600, Brickyard 400, and Southern 500. He also holds the title of Xfinity Series Champion with 47 career wins. Apart from that, he has 14 career wins in NASCAR Gander RV & Outdoors Truck Series.
In recent times, Harvick has signed a two-year extension with Stewart Haas Racing till the year 2023 and has taken a step back from media appearances and hosting.
5. Martin Truex Jr.
(Total Earning 2022: $11.5 million)
While wondering how much does NASCAR drivers earn, have a look at the life of Martin Truex Jr. In 2019, he signed a brand new deal with Joe Gibbs Racing that made him one of the wealthiest NASCAR drivers with a total earning of $11.5 million. Apart from this, his successful career has also earned him significant revenue. He has won the 2017 Monster Energy NASCAR Cup Series championship and has the honor to drive the No. 19 Joe Gibbs Racing Toyota. His first win with his team occurred at Richmond Raceway in 2019, following six more at Dover International Speedway, the Coca-Cola 600 at Charlotte Motor Speedway, Sonoma Raceway, Las Vegas Motor Speedway, Richmond Raceway, and Martinsville Speedway. Truex has also won a two-time Xfinity Series champion title for 2004-2005 and has 13 career wins in the following division. Martin's net total worth is $30 million.
6. Brad Keselowski
(Total Earning 2022: $10.4 million)
One of the wealthiest NASCAR drivers is Brad Keselowski with a total earning of $10.4 million and a net worth of $45 million. He works part-time for NASCAR Xfinity Series and drives full-time for Team Penske in the NASCAR Cup Series. He earned the championship of the 2012 cup and 34 career victories in NASCAR's premier series, including in the marquee Coca-Cola 600, Brickyard 400, and Southern 500 events. He also has 39 career wins in the 2010 Xfinity Competition and is also a Champion of it. Out of his wealth, Brad has invested more than $10 million in an advanced contract manufacturing company named Keselowski Advanced Manufacturing. It was launched in 2018 by Keselowski and is based on 3-D printing technology.
7. Chase Elliott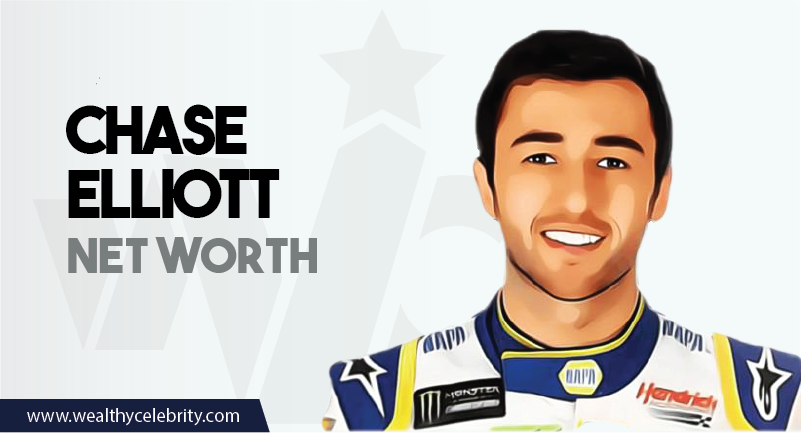 (Total Earning 2022: $10.2 million)
Chase Elliott is one of the highest-paid NASCAR drivers of all time with a total earning of $10.2 million. His undeniable success has earned him the title of NASCAR's most popular driver for a second consecutive year in 2019. Chase won the 2020 Charlotte Motor Speed Roval for the third time in 2020. He has the prestige to win nine Career Cup series with the first one occurring at Watkins Glen International in 2018 and the recent one being the 2020 NASCAR All-Star Race at Bristol Motor Speedway. Moreover, he has earned the title of NASCAR Playoffs berth for consecutive five years. After winning the NASCAR national division championship in 2014, he became the first Rookie to achieve that. In 2018 and 2019, he secured the title of being the Most Popular Driver in the Cup Series following his father's lead, who won it 16 times. He also drives the same No. 9 Chevrolet for Hendrick Motorsports, which was used by his father and became part of the NASCAR Hall of Fame. All the success he has gained over the years has earned him a net worth of $2 million.
8. Joey Logano
(Total Earning 2022: $10 million)
One of the most famous NASCAR drivers is Joey Logano with a total earning of $10 million and a total net worth of $44 million. He holds the title of the 2018 NASCAR Cup Series champion along with the driver of the No. 22 Team Penske Ford. His hard work has led him to qualify for the 2020 NASCAR playoffs with the win at Las Vegas Motor Speedway and Phoenix Raceway. Apart from that he is a 25-time cup winner and has won the Sunoco Rookie Yearly award of 2009. Joey has 30 career Xfinity Series wins and one Gander RV & Outdoors Truck Series victory. He is known as the youngest Cup series winner after his win at the New Hampshire Motor Speedway. And recently, Joey Logano makes the 500th NASCAR Cup Series start.
9. Kyle Larson
(Total Earning 2022: $8.8 million)
Kyle Miyata Larson, better known as Kyle Larson, is a 30 years old professional driver from America who also owns the World of Outlaws sprint car team. NASCAR has suspended him; the driver has performed exceptionally well in NASCAR Cup Series, driving the No. 42 Chevrolet Camaro ZL1 1LE for Chip Ganassi Racing. He also holds the title of the 2012 NASCAR K&N Pro Series East champion and a Rookie of the Year. While talking about the Rookie of the year title, he is the 2013 NASCAR Nationwide Series Rookie of the Year as well as the 2014 NASCAR Sprint Cup Series Rookie. He is also a winner of 2015, 24 Hours of Daytona, and the 2020 Chili Bowl Nationals Champion. This has earned him a total net worth of $12 million.
10. Clint Bowyer
(Total Earning 2022: $6.9 million)
The list of legendary NASCAR drivers includes Clint Bowyer with a total earning of $6.9 million with a total net worth of $40 million. The 41 years old NASCAR driver has the honor of winning two races in seven years. Clint participated in the Stewart-Haas Racing (SHR) in 2017 and won one of the most coveted rides in the Monster Energy NASCAR Cup Series – the No. 14 Ford. According to the sources, the driver has signed a one-year contract extension with Stewart-Haas Racing, but that has led to a cut in his pay. Bowyer replaced the three times champion of the NASCAR Cup Series Tony Stewart.
Which NASCAR driver is your favorite? Tell us in the comment section below.