Most Expensive Swimming Pools: The richest celebrities worldwide never miss a chance to vaunt their net worth through real estate, lifestyle, wardrobes, cars, and several other things. They apply the same logic of extravagance to even their swimming pools and waterfalls to the extent that one can never imagine.
Have you ever seen the most expensive pools and owned by the wealthiest celebrities in the world? Here we have got a list of luxuriously designed pools and their celebrity owners that will leave you stunned. Check out the details here!
10. Ralph Lauren's Swimming Pool
Ralph Lauren, the most successful fashion designer is one of the richest celebrities in the world. Even at the age of 81, his net worth is estimated to be at US$ 8.2 billion. So, one can expect a lavish lifestyle from the most famous designer and opulent assets on his profile. Ralph Lauren owns a very stylish and expensive swimming pool that will grab everyone's attention at first glance.
His pool is located among the Colorado Mountains that appear to be like a natural lake from a distance. It is so immaculate that the mountains surrounding it have their reflection produced in the pool. This view adds up to the splendid beauty of this designer swimming pool.
9. Cindy Crawford's Swimming Pool
Cynthia Ann Crawford, aka Cindy Crawford, is an American model, actress, and businesswoman. She is one of the most successful models with years of experience, making her an international celebrity. Cindy has also worked for television and films as well as has different business ventures.
The supermodel Cindy Crawford has a lavish pool in Malibu that might not be as big as that of the other celebrity pools; however, it is luxuriously exquisite. It is located perfectly with the Pacific coastline surrounded by natural beauty with shrubbery and palm trees. The overall view is so breathtaking for everyone and exclusively for Cindy Crawford as well as her family.
Natural stone terraces surround the pool, and it also has a spa. While swimming under the Malibu Sun, one can have a gorgeous view of an ocean that is more like a treat for the eyes.
8. Mark Wahlberg's Luxurious Lagoon
Mark Wahlberg is an American actor, producer, restaurateur, and former rapper with a $300 million net worth.
He possesses one of the most expensive pools that looks so beautiful. It features everything that one can dream of, i.e., a cascading water slide, a hidden spa, and all of it sheltered by a cave. It is a luxurious lagoon-style swimming pool with multiple waterfalls cascade, the height of each one of which reaches 12 feet.
Furthermore, it has a beach made of natural sea sand with its surroundings entirely designed with reclining beach chairs. The lagoon allows bathers to relax in a resort-style atmosphere. The exciting thing about this lagoon is that this property is currently tagged for sale; however, it is out of range for most people following its huge worth.
7. Jim Parson's Lake Like Pool
James Joseph Parsons, aka Jim Parson, is a famous American actor and producer. He is specifically known for his role as Sheldon Cooper in the sitcom The Big Bang Theory. Jim has an estimated net worth of $160 million.
Jim owns such an expensive swimming pool that makes it hard to understand if it is a pool or a lake. This masterpiece resembles a lake due to its vast design that is expanded on 1,400 sq. ft. What more can you expect from this magnificent pool? Well… it is a lake with a view, overlooking the city and valley below.
Jim Parson relaxes here on the chaise lounges positioned along the swimming pool's edge with friends and family. The serene waterfalls and fountains have added up to the peaceful ambiance of this locale.
6. Dr. Dre's Classy Pool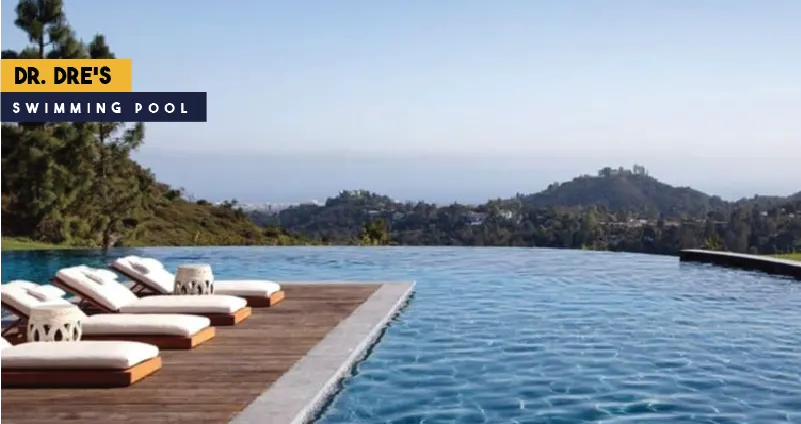 Dr. Dre is one of the most famed American rappers, who is also a record producer, audio engineer, record executive, entrepreneur, and actor. He is one of the world's wealthiest celebrities, with an estimated net worth of $800 million.
Dr. Dre owns one of the most luxurious pools used as the most prominent site for the pool parties. The same location was used for the first album launch of Dr. Dre's around two decades back. The legendary rapper purchased this property from Tom Brady and Gisele Bundchen.
This massive swimming pool has been designed to resemble a natural water body and is bordered by a beautifully planned pool house. Besides, it has numerous oak-wood harbors carved along the water's edge, and as a result, it is pure luxury. We can call it a home-turned-holiday-resort worthwhile for a relaxing time.
5. Lance Armstrong's Texas Pool
Lance Armstrong is the most famed former professional road racing cyclist from America with an estimated net worth of between $50 million and $75 million.
He owns a luxurious swimming pool, more of an oasis with palm trees, wooden bridges, and comfy chaise lounges settled along a serene water body, making that of a tranquil oasis in Texas. This pool is best for spending leisure time for refreshing up to get back to the routine.
Lance Armstrong and his children consider this spot as a favorite. It has an elevated spa at its side and provides a perfect ambiance for an athlete to relax his muscles after a tough day. The pool is styled in suitability with the stone bathhouse, which is Armstrong's Austin residence.
4. Eddie Murphy's Most Expensive Pool
Edward Regan Murphy is one of the most famous American actors who is also a comedian, writer, and singer. He is estimated to have a net worth of $6.7 billion that makes him one of the world's wealthiest celebrities.
As per the reports, Eddie Murphy's former pool was located in California, known as The Crown of Los Lagos. The luxurious pool offers jam-packed views of the Sierra Nevada foothills and Sacramento skyline. Moreover, it has an extravagant waterfall wall. Murphy used to spend his time here during the holidays and would decorate the pool area with festive lights to have that unique Christmas appeal. Eddie had this pool and the property in 2007 when his divorce with wife Nicole was finalized.
3. Rihanna's Lustrous Swimming Pool
Rihanna the most famous singer; also, an actor, and a businesswoman. The estimated net worth of Rihanna is around $600 million.
She owns a lustrous Swimming pool that depicts the panache of the celebrity. She is fun-loving and that of business-oriented. Rihanna's sleek pool is part of her Hollywood home, having $6.8 million worth. It is so unique, desirable, and glitzy as that of Rihanna herself.
The pool has two exquisite sections, i.e., one with hot and the other with cold swimming water. Besides, it has underwater lights to enhance the night-time swim experience. Furthermore, the water body is surrounded by relaxing couches on edge, making it a complete comfort zone. Rihanna's pool is contoured to highlight her home's design exclusively.
2. Denise Richards' Pool
Denise Richards is an actress, former fashion model, and television personality with an estimated net worth of $12 million.
She is the owner of the world's most expensive pool resembling more to a water theme park. This wonderland seems to be an open invitation by the star herself to everyone for spending a calm day splashing around the pool. The feature that adds to the excitement about this exotic pool is a super tube making the experience fantastic.
Besides, several waterfalls add up to the swimming pool's beauty in a pleasing arrangement, and there's a swim-in cave. The pool turns magnificent with terraces and bridges, in pure white, that cross over the twisty pools. Furthermore, lush green surroundings add up to the view's serenity, and the ocean makes it one of the most spectacular pools ever.
1. Will Smith's Exquisite Lagoon
Willard Carroll Smith Jr., known as Will Smith, is the most powerful actor, producer, and rapper with an estimated net worth of $350 million that makes him one of the world's wealthiest celebrities.
Will Smith owns the most expensive pool in the world located on Will and Jada Smith's $42 million property in Malibu. It is a free-form pool designed in a way that it resembles a natural water body. It is exclusively famous for its landscape architect as Daniel Busbin designed it.
A scatter of bright orange cushions on chaise lounges adds up to the luxurious view of this magnificent pool. The contrast of minimalist color with bright-hued cushions gathered around the pool makes it a masterpiece.
Summary
These expensive pools owned by celebrities depict that they are always keen to exhibit what they have got based on their successful careers.
Do you have any more expensive swimming pools to add up to this list? Please share your feedback to make it valuable!