There are many instances or things in the world that astonishes the people across the globe, be it a natural phenomenon or otherwise. The same is the case with celebrity doppelgangers or look-alikes, people like them and often get confused as to which celebrity they are seeing in front of them. The best example in this regard would be Matt Damon and Mark Wahlberg. In this article, we have compiled a list of 20 celebs who looks exactly the same. Have a look and enjoy!
Male & Female Hollywood Celebrities Lookalikes
1. Rihanna/Priscila Beatrice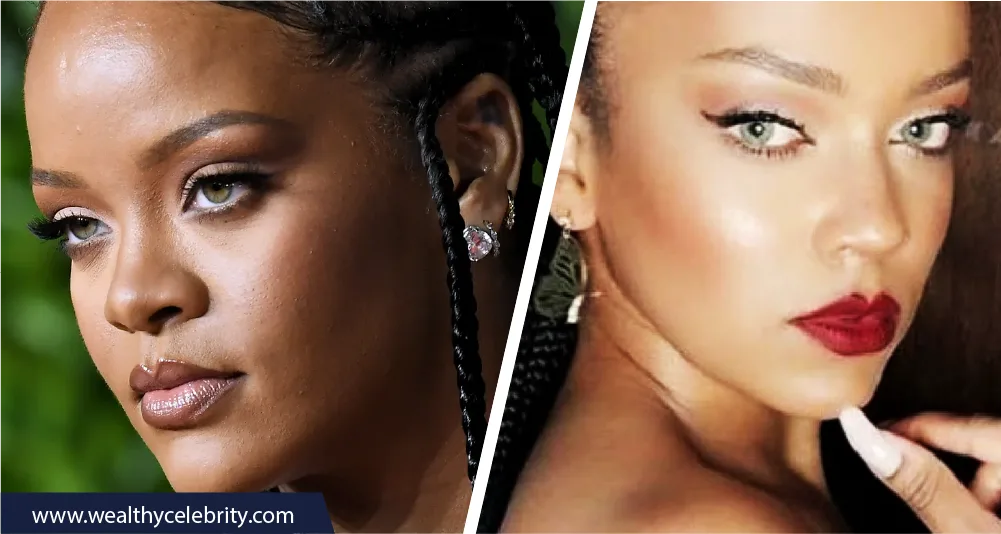 Priscila Beatrice, 28 years old TikToker, is a celebrity doppelganger of Rihanna. This uncanny resemblance is difficult to ignore. Beatrice posted a picture of herself in which she was copying the style of nine-time Grammy winner. She has also made a tick-tock imitating RiRi's look at the British Fashion Awards, 2019. The net worth of Rihanna is $600m.
Rihanna is even pretending that Priscila is her. The Shade Room spotted Beatrice's video. Rihanna commented on her Instagram post, "where the album sis? #R9." This post creates too much confusion among her fans.
2. Ariana Grande/Jami Alix
Ariana Grande, 26, is an American singer, songwriter, and actor. Her net worth is $150m. Do you know who her celebrity lookalike is? It is Jami Alix! Jami, 24, is also a singer, as well as a blogger. Jami Alix has a net worth of around $1m. Both celebrities look almost the same age. Jami, in an interview, told her fans that people since her high school called her 'Ariana Grande girl' when Ariana came into the screen during her Disney time.
People in college often call Jami 'that girl from Victorious.' Moreover, she says that she hears these comments every day. This comparison and confusion have become part of Jami's life, and she kind of enjoys it.
3. Angelina Jolie/Chelsea
The lookalike actor of Angeline Jolie is Chelsea Marr. Jolie, who has a net worth of $120m, has a big name in the industry. Chelsea is from Aberdeen, Scotland. Marr is a twin of an Oscar-winning actress Angelina Jolie and has a net worth of $15m. Marr has more than 115k followers on Instagram.
In August 2015, Chelsea said on Facebook, "I do not really see the resemblance myself, to be honest." Chelsea is a social media influencer. She gained fame from her lifestyle and fashion photos. Her Instagram username is chelsealoumarr.
4. Kim Kardashian/Kamilla Osman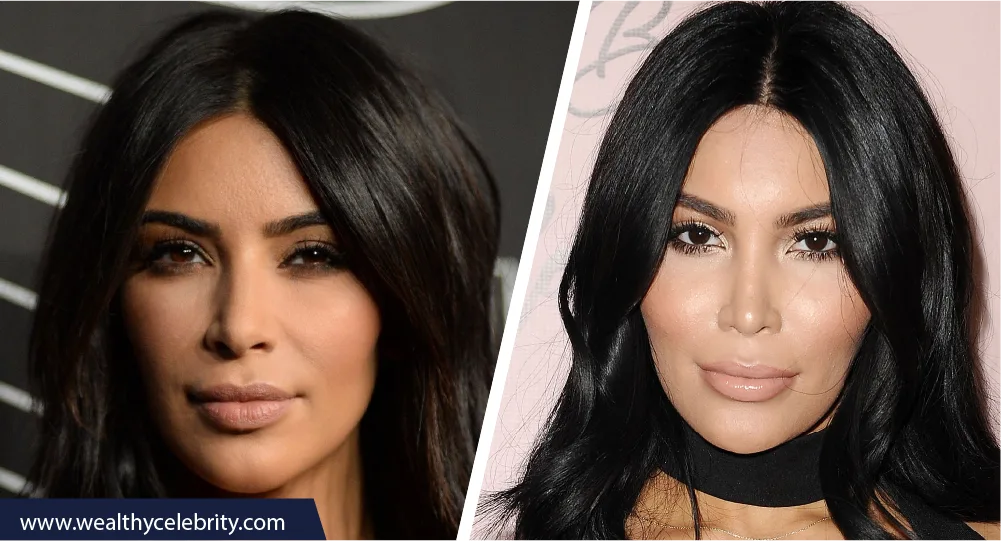 Kamilla Osman got fame due to her celeb lookalike phenomenon. In 2016, Kamilla was introduced in the show keeping up with the Kardashians because of her unbelievable resemblance to Kim. Jonathan Cheban, who is Kim's best friend, introduced Kamilla. This introduction has become a golden chance for Kamilla Osman. Kamilla's famous people lookalike is a golden chance that only lucky ones get.
Kim Kardashian has a net worth of $900m, while Kamilla Osman has a net worth of around $400k. Kamilla's followers on Instagram are increasing with every passing day.
5. Matt Damon/Mark Wahlberg
Matt Damon and Mark Wahlberg are actors that are lookalike celebs. Mark is the 'Transformers' actor, but people mostly compliment Matt as if he were Mark. In 2013 during an interview with Absolute Radio, Matt, 'The Martin' actor, said that people often confuse him with Wahlberg.
Mark has also told Damon that people usually compliment by saying, "I love you in 'The Bourne Identity.'" Damon (net worth $170m) and Mark (net worth $300m) have made a deal with each other that if they come up with this situation, they will try to handle it politely.
6. Kylie Jenner/Amira
Amira is an Algerian beauty. She is only 16 but is a lookalike actor of Kylie Jenner. Amira is very famous on Instagram with the username amirallg. She has the same eye color, shape, hair, pout, and other features as well. Amira has gone viral on Instagram. And has more than 68k followers.
Fans usually comment on Amira's IG "Kylie is dat u?" and "Tell me this isn't Kylie Jenner." It looks like she has some DNA of Kylie. Kylie is the youngest almost billionaire with $900m net worth.
7. Leonardo DiCaprio/Konard Annerud
Konrad Annerud, 21, is a bartender. In real life and on IG, people usually compliment him that he has a celebrity doppelganger i.e., Leonardo DiCaprio. Konrad said during an interview that people had called him "Leo." Moreover, people have also requested him to take pictures with them. He said that at times he finds this attention very tiring.
Leonardo DeCaprio has a net worth of $260m; on the other hand, Annerud's net worth is unknown.
8. Brad Pit/Nathan Meads
Nathan Meads, who is 33 years old, is often confused with Brad Pitt. Meads is a UK citizen who usually feels that if you resemble any star, then your life becomes a bit annoying. People usually get excited, and you feel sad to disappoint them. People have asked him for autographs and selfies as well.
Because of celebrity lookalike appearance, the salary of Nathan has increased from $500-$1000. However, the net worth of Brad Pitt is $300m.
9. Katy Perry/Zooey Deschanel
Do you know any actresses who lookalike? Well, what do you think about Zooey and Katy Perry? These two celebrities look alike to each other to a great extent. Zooey, "New Girl," star usually gets agitated due to this resemblance. In 2009, Zooey said in an interview with MTV that she and Perry just look a little bit alike– this is their only similarity.
Katy Perry is a pop star, actor, and businesswoman. She has a net worth of $330m. Zooey, who is an actor, singer, producer, and songwriter, has a net worth of $25m.
10. Selena Gomez/Lucy Hale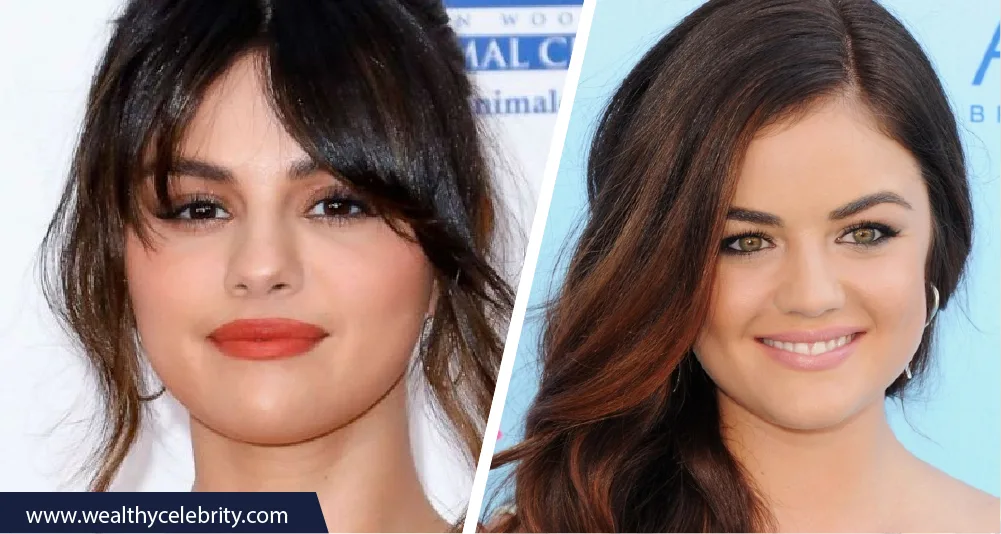 Lucy Hale, 'Pretty Little Liars' star, told Insider that when she was younger, people mistook her for Selena Gomez. She said that she used to enjoy that resemblance. Stars lookalike often enjoy this confusion. One-time Hale took pictures with an old lady as Selena because she did not want to disappoint her. Selena, who is an actress, singer, and what not, has a net worth of $75m. 'Wizards of Waverly Place' star, Lucy, has a net worth of $6m.
11. Kate Middleton/Keri Russell
Kate Middleton, who is a royal, resembles an American actress Keri Russell. Both have green eyes and similar face cuts. It is surprising that famous people look-alike this much when one is English while the other is American.
Middleton has a net worth of $10m. American actress Russell has a net worth over $8m.
12. Taylor Swift/Ashley
Ashley and Taylor Swift have a surprising resemblance. Besides, both live in Nashville and love to watch Grey's Anatomy. Ashley made a TikTok video, which has become viral. Because in that video, she told the cons of having a celeb look alike. When Ashley wears something cute for a date with her husband or for any party; people rush to her for a photograph.
"You look more like Taylor than Taylor looks like Taylor" Ashley receives such comments on her Tik Tock. Ashley wants to have a surprise meet up with Taylor as well. The net worth of Taylor Swift is over $400m.
13. Amy Adams/Isla Fisher
Isla Fisher and Amy Adams are actresses who lookalike. Besides eye color differences, their fans often get confused due to these uncanny similarities.
Fisher jokes about her resemblance to Adams (who has a net worth of $60m). Fisher (who has a net fortune of $160m) also used Amy's photo in her Christmas card to fool her friends and family in which she succeeded.
14. Nina Dobrev/Victoria Justice
It is funny that due to the striking resemblance, Victoria Justice feels like she is the 'Vampire Diaries' star, Nina Dobrev. In this way, she has presented the Teen Choice Awards 2015 to Nina. Dobrev has a net worth of $11m, while Justice has a net worth of $10m.
At a polo event, Nina and Victoria took photos with each other. This picture has surprised their fans too much. These two stars lookalike exactly the same, and feel good about this.
15. Keanu Reeves/Chris Klein
Chris Klein says that people often think that he is Keanu Reeves. He gets excited when people ask him for an autograph while thinking that he is Keanu.
Keanu, who is an actor, producer, and musician, has a net worth of $350m. On the other hand, Chris has a net worth of $3m. It is exciting and confusing when famous people lookalike. Isn't it?
16. Natalie Portman/Keira
Natalie and Keira lookalike in long, short, curly, and straight hair. The bottom line is they look like twins. Even Keira has played the role of Natalie's double in 'Star Wars Episode 1: The Phantom Menace' as Sabe. Portman has a net worth of $62m. At the same time, Keira has a net worth of $60m.
17. Beyoncé/Brittany Williams
Beyoncé has a net worth of $400m and is one of the highest-paid personalities in the world. Brittany Williams resembles Beyoncé to a great extent. Williams is a Detroit resident whose net worth is unknown.
Williams told The Daily Mail that people usually chase her as if she were Queen Bee.
18. Zac Efron/Jared
Zac is a famous actor while Jared is a musician. Zac has played roles in 'Dallas Buyers Club' and 'Blade Runner 2049'. Jared has played guitar in Thirty Seconds to Mars. Both are different persons with similar facial features. People sometimes say that Zac used to be Jared.
Efron has a net worth over $24m. On the other hand, Leto's net worth is $90m. These two celebrities lookalike to a surprising extent.
19. Tom Cruise/Mark Harmon
Tom is among the highest-paid actors in Hollywood. Tom Cruise's net worth is $570m. At the same time, Mark Harmon is an old American actor. His younger self is a photocopy of Tom Cruise. Mark, who appeared in NCIS, has a net worth of $100m.
20. James McAvoy/Ewan McGregor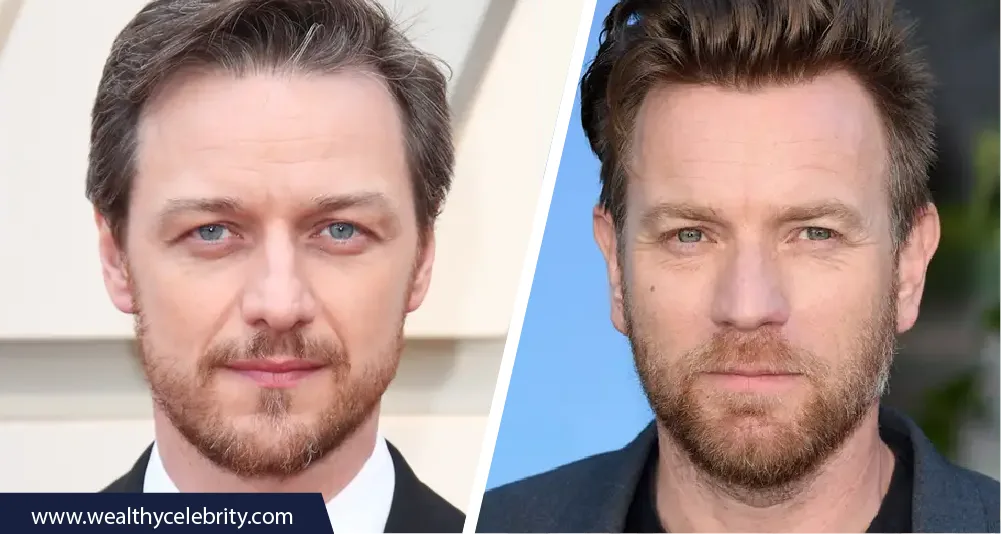 James is not a 'Star Wars' actor, but he does look like he is the one. Actually, he resembles Ewan McGregor. Ewan has a net worth of $25m. He played the role of young Obi-wan Kenobi in 'Star Wars.' However, 'Split' actor James has a net worth of $17m. Both are Scottish actors.
Which pair do you feel resembles the most? Leave your reviews in the comments box.