When someone talks about celebrity engagement rings, it's impossible not to get jealous of them. Expect the one you can afford; everyone will get jealous of their eye-catching bling. No one denies that staring at the big expensive engagement rings of the rich and popular ones is fun. Have you ever wondered how much Jennifer Lopez's ring costs or how many carats Beyonce's engagement ring is? However, engagement is always one of the most awaited events in men's and women's lives.
Here every man thinks of the huge, sparkling diamond that his woman can be flaunted in front of her family and friends. This case is different when it comes to famous ones; they are known to compete in context to their engagement diamond rings' size or cost.
The number of years in marriage is not determined, but the amount of carats or cost of engagement rings is determined. No doubt, engagement rings are the ultimate gesture of great love and commitment. Thus, Hollywood celebrities leave no chance to indulge their significant with some most expensive engagement rings.
On average, couples in the U.S. spent a tiny amount of over $3,500 on their engagement rings. The Most Expensive Celebrities Engagement Rings list begins with a stunning million jewels; however, the topmost spot is taken at a staggering $10 million.
10 Most Expensive Celebrity Engagement Rings
10. Mariah Carey
$2.5 Million
Mariah Cary's engagement ring appears twice in this list of most expensive celebrity engagement rings. Nick Cannon also proposed this music icon with a 10-carat pink diamond with additional pink and white diamonds. This celebrity engagement ring worth up to $2.5 million and weighed in total about 17 carats. A favorite couple of Hollywood tied a knot in 2008 after a six-week romance. Mariah Carey and Nick Cannon welcomed fraternal twins, a son Moroccan and a daughter Monroe. Moreover, the couple separated in 2014 and got divorced in 2016, yet they made sure their separation never affect their little one's happiness.
9. Jacqueline Kennedy
$2.6 Million
In addition to being the most expensive engagement ring, Jacqueline Kennedy Onassis's ring was more than flawless. Billionaire Aristotle Onassis proposed Jacqueline Kennedy's engagement ring in 1968. The feature that made it the most expensive engagement diamond ring was the 40.42-carat marquise-cut diamond known as the Lesotho III diamond. Moreover, it was the third-largest gem, cut from the famous 601 carats Lesotho rough diamond. The expensive engagement ring brand here is Harry Winston to present this staggeringly large gem which is an L color and VS2 in clarity. The celebrity sold an engagement ring at a famous auction of the estate at Sotheby's in 1996. The person who purchased was Anthony J.F. O'Reilly – the chief executive of H.J. Heinz Co. Ironically. The costly diamond engagement ring was never worn by a famously discreet former first lady due to its colossal size.
8. Vanessa Bryant
$4 Million
Just after lifting the charge of rape, Kobe Bryant presents a rare 8-carat purple diamond ring to her fiancé. Kobe was 20, and Vanessa was just 17 when they met each other on a music video set. They got engaged when Vanessa turned 18. However, the love birds couldn't make out the go; days after admitting he had been unfaithful to Vanessa, he told her how many millions of dollars he gifted her. Thus, at that time, it was reported he purchased an expensive diamond ring for Vanessa, which was approximately worth $4 million.
7. Grace Kelly
$4.06 Million
No doubt everything luxurious fits royalty. When The Rear Window star accepted the Prince Rainier II of Monaco's proposal with a unique engagement ring during a visit to her hometown of Philidelphia, it is about that time. According to media reports, he also gave her an eternity band filled with rubies and diamonds from family heirlooms. Once their souls got paired up, Kelly started to film High Society. While making this film, the costume designer was going to create an artificial ring for the film. Instead of wearing an artificial ring, the prince presented her to buy a real second one. Cartier designed this most expensive celebrity engagement ring. It was a piece of 10.47-carat emerald-cut bauble flanked with two baguette-cut side stones. The estimated cost of Grace Kelly's diamond ring was $4,060,000.
6. Jennifer Lopez
$4.1 Million
Jennifer Lopez is another A-list personality, along with Taylor, to have multiple engagement rings. Yet the most expensive engagement ring is from her most recent fiancé Alex Rodriguez. It was a 20-carat emerald-cut gorgeous engagement ring worth up to $4.1 Million. Rodriguez is a retired baseball player; he proposed J. Lo in March 2019, when they were on vacation in the Bahamas. Besides this, J. Lo got another expensive diamond engagement ring from Mark Anthony, which worth estimated from $1.2- $2.5 Million.
Also read: Jennifer Lopez house- one of the most expensive one
5. Kim Kardashian
$4.5 Million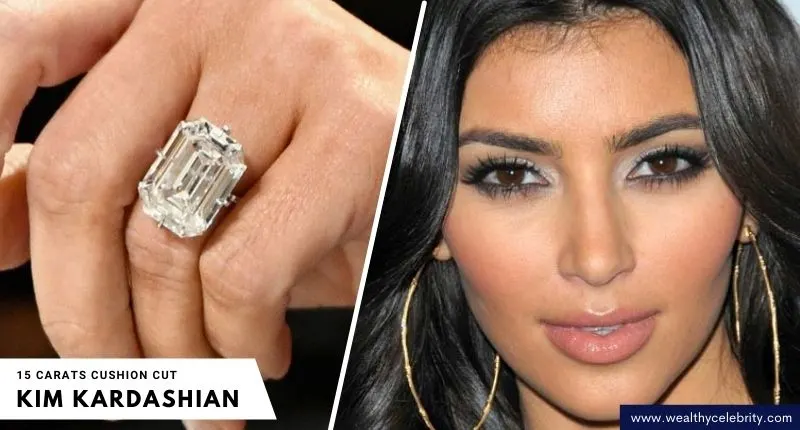 The reality star Kim Kardashian got surprised with a giant diamond ring proposal by Kayne West at San Francisco's AT&T Stadium in October 2013. It was a cushion-cut diamond with a delicate pave band covered with tiny diamonds making it one of the most expensive engagement rings. Kim Kardashian's engagement ring was 15 carats and worth around $4.5 million. The sad part of the story was stolen from the star during an infamous Paris robbery in 2016. Kim Kardashian also got another expensive engagement ring before West's ring.
4. Paris Hilton
$4.7 Million
In 2005, Paris Hilton was thankful to her Greek shipping heir fiancé to present her beautiful expensive colossal diamond ring. Paris Latsis – Paris Hilton's fiancé gave her a 24-carat ring with an estimated worth of $4.7 million however skyrocketed later on to $6.3 million. After a while, Hilton was engaged to an actor Chris Zylka in 2017. However, she didn't get that much expensive engagement ring than Latsis's one. It was a bit smaller 20-carat emerald-cut diamond ring. They both also ended up in great grief, and Hilton moved on with a businessman Carter Rum.
3. Beyonce
$5 Million
No doubt Jay-Z knew very how to pick the right bling for Queen Bay. It was way hard tricky for everyone to take off the eyes from Beyonce's engagement ring on the red carpet for Fashion Rocks, NYC. The singer Beyonce and rapper Jay-Z secretly married each other. However, they flashed out with a most expensive engagement ring by Lorraine Schwartz. It was an 18-carat flawless diamond engagement ring with an estimated worth of $5 million. Now you know how many carats is Beyonce engagement ring that cannot hide its sparkle. Moreover, Queen B got a ring from the most expensive engagement ring brand and one of the most popular choices on the red carpet; Lorraine Schwarz.
2. Elizabeth Taylor
$8.8 Million
The Elizabeth Taylor engagement ring was not only known for its vast diamond. It was a beautiful 29.41-carat emerald-cut diamond ring from Mike Todd. Elizabeth called her ring "my ice skating ring." Taylor explains in books that once, during a visit to a Russian museum, the guide told her that this stone beauty should be kept in museums. There she answered them that "I disagree with you. When I wear it anyone can look at it and I'll let anybody try it on. So more people have probably touched this stone, see the beauty in the pure sunshine or when it sparkles at night. Anyone who is around me can see it up close. Isn't that better than putting it in a museum?" Another most expensive celebrity engagement ring worth $8.8 Million was sitting on her hand until she received the Krupp Diamond ring from Richard Burton. It also reported that Elizabeth sold her engagement ring later on.
1. Mariah Carey
$10 Million
The billionaire David Packer proposed to the music icon Mariah Carey in 2016 with a staggering $10 million engagement ring. However, their engaged life didn't continue longer, and they separated their ways almost after nine months of an engaged life. Besides their break, Carey kept her expensive engagement ring ever on her hand over a year-post breakup. This celebrity engagement ring was mold with a 35-carat emerald cut diamond with an estimated worth of $10 million. According to some reports, this previous expensive jewel brought some bad vibes for the singer, and she sold it at an auction to L.A. jeweler in 2018 for $2.1 million.
So, these were the most expensive celebrity engagement rings that rich ladies got. While we all keep up saving for months and years to buy a beautiful engagement ring, this moment comes only once in most people's lives. However, these celebrities own a great deep pocket to purchase some of the rarest diamond rings for their loved ones. Whereas, we've also come across celebrities like Mariah Carey, J. Lo, etc., who got costly engagement rings more than one time in their life.
Presenting the most expensive engagement diamond rings to your loved one is no big deal for these celebrities as they earn enough to afford them. Everyone tries to buy the best according to the penny they can afford.
Which one of these diamond rings did you like the most? Let us know in the comments below.